The Military Options for North Korea by John R. Bolton
North Korea test-launched on Friday its first ballistic missile potentially capable of hitting America's East Coast. It thereby proved the failure of 25 years of U.S. nonproliferation policy. A single-minded rogue state can pocket diplomatic concessions and withstand sustained economic sanctions to build deliverable nuclear weapons. It is past time for Washington to bury this ineffective "carrots and sticks" approach.
America's policy makers, especially those who still support the 2015 Iran nuclear deal, should take careful note. If Tehran's long collusion with Pyongyang on ballistic missiles is even partly mirrored in the nuclear field, the Iranian threat is nearly as imminent as North Korea's. Whatever the extent of their collaboration thus far, Iran could undoubtedly use its now-unfrozen assets and cash from oil-investment deals to buy nuclear hardware from North Korea, one of the world's poorest nations.
One lesson from Pyongyang's steady nuclear ascent is to avoid making the same mistake with other proliferators, who are carefully studying its successes. Statecraft should mean grasping the implications of incipient threats and resolving them before they become manifest. With North Korea and Iran, the U.S. has effectively done the opposite. Proliferators happily exploit America's weakness and its short attention span. They exploit negotiations to gain the most precious asset: time to resolve the complex scientific and technological hurdles to making deliverable nuclear weapons.
Now that North Korea possesses them, the U.S. has few realistic options. More talks and sanctions will fail as they have for 25 years. I have argued previously that the only durable diplomatic solution is to persuade China that reunifying the two Koreas is in its national interest as well as America's, thus ending the nuclear threat by ending the bizarre North Korean regime. Although the negotiations would be arduous and should have commenced years ago, American determination could still yield results.
Absent a successful diplomatic play, what's left is unpalatable military options. But many say, even while admitting America's vulnerability to North Korean missiles, that using force to neutralize the threat would be too dangerous. The only option, this argument goes, is to accept a nuclear North Korea and attempt to contain and deter it.
The people saying this are largely the same ones who argued that "carrots and sticks" would prevent Pyongyang from getting nuclear weapons. They are prepared to leave Americans as nuclear hostages of the Kim family dictatorship. This is unacceptable. Gen. Joseph Dunford, the chairman of the Joint Chiefs of Staff, has it right. "What's unimaginable to me," he said last month at the Aspen Security Forum, "is allowing a capability that would allow a nuclear weapon to land in Denver." So what are the military options, knowing that the U.S. must plan for the worst?
First, Washington could pre-emptively strike at Pyongyang's known nuclear facilities, ballistic-missile factories and launch sites, and submarine bases. There are innumerable variations, starting at the low end with sabotage, cyberattacks and general disruption. The high end could involve using air- and sea-based power to eliminate the entire program as American analysts understand it.
Second, the U.S. could wait until a missile is poised for launch toward America, and then destroy it. This would provide more time but at the cost of increased risk. Intelligence is never perfect. A North Korean missile could be in flight to a city near you before the military can respond.
Third, the U.S. could use airstrikes or special forces to decapitate North Korea's national command authority, sowing chaos, and then sweep in on the ground from South Korea to seize Pyongyang, nuclear assets, key military sites and other territory.
All these scenarios pose dangers for South Korea, especially civilians in Seoul, which is within the range of North Korean artillery near the Demilitarized Zone. Any military attack must therefore neutralize as much of the North's retaliatory capability as possible together with the larger strike. The U.S. should obviously seek South Korea's agreement (and Japan's) before using force, but no foreign government, even a close ally, can veto an action to protect Americans from Kim Jong Un's nuclear weapons.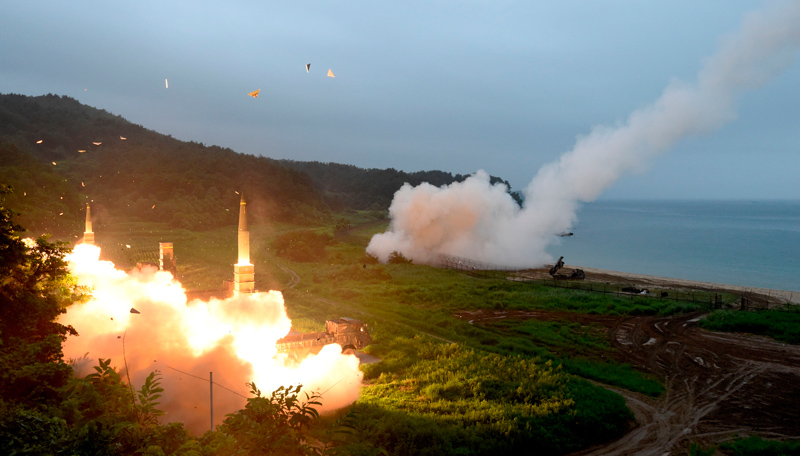 The U.S. and South Korean militaries fire missiles into the East Sea during a South Korea-U.S. joint missile drill aimed to counter North Korea's ICBM test on July 29, 2017. (Photo by South Korean Defense Ministry)
China clearly has enormous interests at stake, not least its fear that masses of North Korean refugees will flow across the Yalu and Tumen rivers into its territory. Neither the U.S. nor China wants conflict between their respective forces, so immediate consultations with Beijing would be imperative once military action began. Both considerations underline why urgent diplomacy with China now to press the benefits of peaceful reunification is vital.
The Pentagon's military planners already should be poring through the operational aspects of a potential military strike. But politicians and policy makers also ought to begin debating the military options—for North Korea and beyond, since similar issues will arise regarding Iran and other nuclear proliferators.
For decades the U.S. has opposed attempts by any state without nuclear weapons to develop them. Washington has consistently failed to achieve that objective, and the world has become increasingly nuclearized. Stopping North Korea and Iran may be the last chance to act before nuclear weapons become a global commonplace.
John R. Bolton, former U.S. Ambassador to the United Nations, is Chairman of Gatestone Institute, a senior fellow at the American Enterprise Institute, and author of "Surrender Is Not an Option: Defending America at the United Nations and Abroad".

This article first appeared in The Wall Street Journal and is reprinted here with the kind permission of the author.