U.S. Abuses Its Mandate to Spread Democracy and Freedom in Iran
Mohammad Reza Yazdanpanah was fired, he believes, for refusing to produce a report painting Israel in an evil light, while defending Omar Shakir, Israel and Palestine Director at the NGO Human Rights Watch. Instructed by duty editor Keyvan Hosseini to do a story on Israel's denial of a work visa for Shakir (which ultimately it granted), Yazdanpanah objected that the topic was irrelevant to the station's audience and unrelated to Radio Farda's mission — "to inform people about the corruption and human rights violations in Iran."
"So biased has been their broadcast in favor of the Iranian regime that the people of Iran and the dissidents derogatorily call Voice of America the 'Voice of Ayatollahs,' and Radio Farda 'Radio Khatami.'"
Reza Parchizadeh proposed that one step the U.S. government can take to "advance the project of regime change in Iran" is to "replace the regime sympathizers in Voice of America and Radio Farda."
Radio Farda, the Prague-based Persian-language branch of the U.S. government-funded network Radio Free Europe/Radio Liberty, recently fired one of its journalists for doing his job: providing Iranians at home and abroad with access to information they are denied by the ayatollah-led regime of the Islamic Republic of Iran.
On June 30, 2017, Mohammad Reza Yazdanpanah was told that he was being let go for retweeting an op-ed in the Wall Street Journal, written by Sohrab Ahmari, which attacked the station for abusing its U.S. taxpayer-funded mandate by covering for the mullahs in Tehran and for bias against Israel.
Announcing his ouster on Facebook (in Farsi), Yazdanpanah wrote:
"Finally, my constant protest in these recent years against the widespread and clever censorship, the removal of opponents of the Islamic Republic from news coverage, distancing of Radio Farda from its mission and raison d'être, manipulation of news in the interest of the Islamic Republic and the widespread corruption in Radio Farda resulted in my expulsion from this media. "
In an exclusive interview with Gatestone, Yazdanpanah said his ouster was the result of more than his repeated social media posts critical of the Iranian regime, or even his issues with Radio Farda for discrediting Iranian dissidents. He was fired, he believes, for refusing to produce a report painting Israel in an evil light, while defending Omar Shakir, Israel and Palestine Director at the NGO Human Rights Watch.
Yazdanpanah told Gatestone that when he was instructed by duty editor Keyvan Hosseini to do a story on Israel's denial of a work visa for Shakir (which ultimately it granted), he initially objected, on the grounds that the topic was irrelevant to the station's audience and unrelated to Radio Farda's mission — "to inform people about the corruption and human rights violations in Iran."
As such, he argued, American tax dollars "should not be spent on a report about whether or not Israel granted someone a visa."
Hosseini was adamant, however, and ordered Yazdanpanah to go ahead with the piece. Yazdanpanah complied. During the course of his research on the case, however, he discovered that Shakir was openly anti-Israel, often to the point of being anti-Semitic. While an undergraduate at Stanford University, Shakir served as co-president of the organization Students for Palestinian Equal Rights, the precursor to Students for Justice in Palestine. An avid supporter of the Boycott, Divestment and Sanctions (BDS) movement against Israel, Shakir, as a lawyer for the Center for Constitutional Rights, represented Professor Steven Salaita, whose offer of employment by the University of Illinois was rescinded over the discovery of blatantly anti-Semitic posts on social media. After Hamas kidnapped, and then murdered, three Israeli teens, for example, Salaita tweeted:
"You may be too refined to say it, but I'm not: I wish all the f**king West Bank settlers would go missing."
In another post, Salaita wrote:
"There's something profoundly sexual to the Zionist pleasure w/#Israel's aggression. Sublimation through bloodletting, a common perversion."
Bolstering Salaita's position, Shakir tweeted:
"We sued U of Illinois today for violating Constitution in firing @stevesalaita for tweets on Israel's bombing of Gaza."
Because Yazdanpanah's report on Shakir ended up including all of this information, Hosseini did not permit it to be broadcast. Instead, the editor reprimanded Yazdanpanah in an email, saying his report was not only "unbalanced and biased," but defamatory. He then aired a short account of Shakir's visa troubles — but omitting mention of the anti-Zionist activist's background. (This was one of the examples Ahmari pointed to in his Wall Street Journal piece, to illustrate misconduct at Radio Farda.)
Yazdanpanah replied in an email to Hosseini:
"The short story you wrote about Omar Shakir's visa is biased, because you have introduced an anti-Semitic individual to the people of Iran as a defender of human rights. I have never been part of the anti-Israel and anti-Semitic propaganda, and I never will be."
Hosseini's response was to file a complaint against Yazdanpanah, which contributed to his dismissal.
Yazdapanah told Gatestone that in recent years, Radio Farda's directorate has favored journalists who have repeatedly violated the rules and regulations of the station's mandate, which is to contribute to the free flow of information and the spread of democracy and freedom of expression in Iran.
"Not only do these journalists attack Iranian dissidents on social media," he said, "but they even express sympathy for the security and military institutions of the Islamic Republic." He added: "And I am the one who got kicked out."
Yazadapanah's claims echo those expressed on June 8, 2017 by Iranian-American political theorist and analyst Reza Parchizadeh. During an address on Capitol Hill — as part of an event about regime change in Iran, coordinated with the office of Congressman Patrick Meehan (R-Pa.) — Parchizadeh said:
"The old media, including the state media directed towards Iran, must be completely overhauled and restructured. In that regard, Voice of America and Radio Farda stand at the forefront, as they have been stuffed with regime sympathizers. So biased has been their broadcast in favor of the Iranian regime that the people of Iran and the dissidents derogatorily call Voice of America the 'Voice of Ayatollahs,' and Radio Farda 'Radio Khatami.'"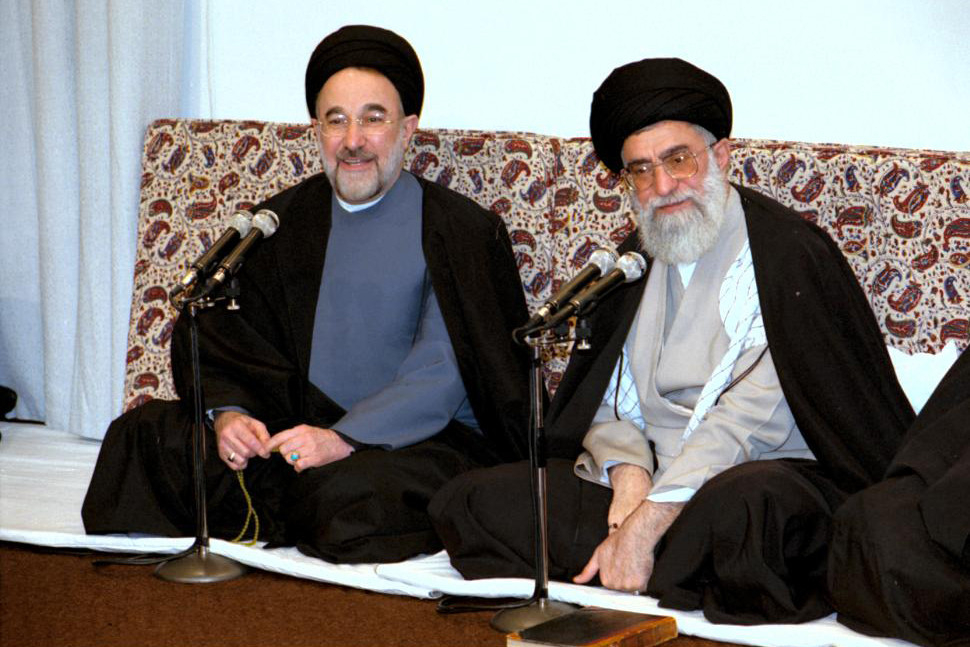 Iranian-American political theorist and analyst Reza Parchizadeh recently said: "So biased has been their broadcast in favor of the Iranian regime that the people of Iran and the dissidents derogatorily call Voice of America the 'Voice of Ayatollahs,' and Radio Farda 'Radio Khatami.'" Pictured: Mohammad Khatami, then President of Iran, and Supreme Leader Ali Khamenei, on December 20, 2000. (Image source: Khamenei.ir/Wikimedia Commons)
Parchizadeh proposed that one step the U.S. government can take to "advance the project of regime change in Iran" is to "replace the regime sympathizers in Voice of America and Radio Farda."
Yazdanpanah says he intends to provide "complementary documents" to any U.S. regulatory agencies investigating Radio Farda. He also expressed his "right to pursue legal action in American and European courts," and "welcomed help to do so from concerned individuals and organizations."
Avideh Motmaen-Far is a Canadian-Iranian journalist.