What They Do Not Tell You about Indonesia by Jacobus E. Lato
The doctrine, "all Muslims are your brothers and sisters," was now everywhere.Community prayers, Friday prayers, newspapers and television programs started roaring the idea of Islamic supremacy.
At community prayer meetings, one often hears discussion on how to behave as Muslims. Now many seminars, conventions, and newspapers, especially during Ramadan, discuss the greatness of Muslims and Islam.
My kampong [village] lies in the suburbs of Surabaya, the second biggest city in Indonesia. Densely packed in a narrow alley, it consists of more than forty houses, stacked like logs, with no gaps at all to sneak in between. A handful of residents work for the government or public schools; some run small household shops. Most residents are Muslim, except for three families who are Christian.
A handful of plants provide us with green, but just down the road scattered stores have been soaring: a big franchise department store, a gas station, banks with long rows of automatic teller machines and facilities that make us feel like a small part of growing Indonesia.
When we first moved here, it seemed ideal. There were only twelve families; they got together at events; we felt close. Communal meetings were held each month; the host would prepare snacks and even sometimes meals. If one of us were in the nearby hospital, we would usually drive together in groups to pay a visit after collecting small contributions to give the sick person. Only one lady, a convert to Islam, wore a headscarf; others only wore it when necessary: at public meetings, celebrations, or Independence Day, August 17.
Saturday nights were the long night. People sat outside on paving stones or rough and humble chairs, and discussed many matters, especially before elections. Indonesia was then under President Susilo Bambang Yudhoyono, a graduate of America's Webster University.
Religious days were marked as moments of happiness and joy. People opened wide their hearts; heaven was coming down and moving us. We visited each other after Eid al Fitr's early morning prayer. Everyone said, "Minal Aidin Wal Fa Idzin" ("Many happy returns") and "Mohon Maaf Lahir Batin" ("Please forgive my wrongdoings"). The long-held tradition of Megengan, when families exchange food or snacks — not just Muslims but Christians, Catholics, Hindus and Buddhists — always preceded Ramadan.
On Christmas, the three Christian families would welcome visitors. Visits to our house by our Muslim friends inspired us to see how great our nation was, and of course our religions. Our Muslim friends would say, "Merry Christmas".
"Islam with a smiling face," was what Newsweek called Indonesian Islam in 1996. The statement made us proud of our cultural hospitality (about 90% of Indonesians are Muslim): Everyone was kind; everyone was moderate; everyone respected humanistic values and a harmonious life.
But, along with the fall of Suharto after 32 years in power, a few Indonesian Muslims, who apparently share some worldwide dreams, began to try to realize this dream. Hardliner clerics, who had lived in exile under Suharto, returned. They made their way into the masses, into the power blocs supported by their networks and their donors. The dream, particularly among a handful of the educated elite, of establishing a Muslim state, or at least a Muslim society, began rushing to the surface.
There is no need for the innocent majority to have a "great idea"; their only needs are leaders and direction. The new leaders then disseminated their ideas: the greatness of Islam, the greatness of Muslims, the greatness of Islamic kinship. The doctrine, "all Muslims are your brothers and sisters," was now everywhere.
Some hardliner clerics moved out from their traditional boarding schools and started climbing the political ladder. Some of them, including those clerics belonging to the Council of Indonesian Clerics (MUI) — the highest Islamic body in the country — and some of the descendants of Saudi or Yemeni clerics, bluntly displayed their new aroma of Islam: Middle East Islam. Community prayers, Friday prayers, newspapers and television programs started roaring the idea of Islamic supremacy.
Many changes took place. In 1980, under Suharto and his powerful, bureaucratic Golkar Party, women almost never wore a headscarf, let alone the monotonous hijab or niqab. Many women then were on the lookout for brand new colorful scarves and cosmetics. These women are lucky: new branded products, armed with halal certifications from our MUI, are on the rise in shops. Arabian-style dresses are on display in boutiques. Arab-style long coats with headscarves are commonplace. A sea of white dresses inundates the public squares, communal prayer meetings, mosques. A leading figure in Surabaya, who requested anonymity, said, "Nowadays Muslim women feel uncomfortable if they do not wear a headscarf. They might be considered unfaithful or not sufficiently devout."
Men with long and loose beards, marked foreheads and Arabian-style dress hold a Muslim type of rosary; they chant various names of God as their lips move silently — are now common. At community prayer meetings, one often hears discussions on how to behave as Muslims. Seminars, conventions and newspapers, especially during Ramadan, discuss the greatness of Muslims and Islam.
Unfortunately, along with those developments, our happy moments are disappearing at high speed. Being Muslim, for some, means excluding others. A polarization happens; some people do not want to deal with people of another religion.
There are stories of raids on churches, Christian shrines and mosques run by the small Ahmadiya sect. Other religious days, especially Christmas, are now marked by those for and against them, thanks to fatwas.
MUI, Indonesia's highest Islamic body, says it no longer wants Muslims to greet Christians during Christmas; it is considered a sin. Many people are afraid of being labeled unfaithful or blamed for being kind to Christians. We still can shake hands, but anything else is now forbidden. "Saying 'Merry Christmas' is against my religion," a friend explained to me. "The greeting acknowledges Jesus Christ as Allah."
Valentine's Day is another of many concerns about the supposed "Christian influence." Some department heads at educational agencies have issued circulars, banning students from celebrating it (here, here, here).
On March 12, King Salman of Saudi Arabia ended his visit to Indonesia; he boarded his royal airline and headed to Japan. Ash around the runway blew into the air. All memories of His Highness's visit reside in our people's mind, even while we were wishing His Majesty farewell.
After the oil boom, Iran's Revolution and the 444 days of the U.S. Embassy hostage crisis in Iran, Indonesian Muslims believed Muslim power was returning.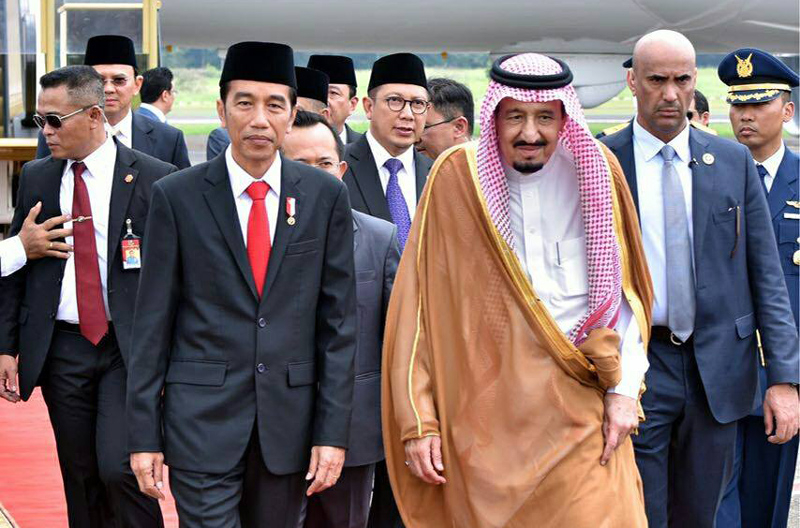 President Joko Widodo of Indonesia (foreground, left) meets with King Salman of Saudi Arabia (foreground, right), at Halim Perdanakusuma Airport in Indonesia. (Image source: Indonesian Presidential Palace)
Jacobus E. Lato, a writer, is based in Surabaya, Indonesia.