Turkey's 'Good' and 'Bad' Terrorists by Burak Bekdil
"This is jihad tourism, and people do not understand this is a one-way tour. You cannot say 'IS is terrorist but Hamas and Hizballah are not.' Hizballah is the Shia version of IS. Hamas, IS and others are the Sunni branches of the same tree." – High-level foreign diplomat.

---
In a high-level meeting about fifteen years ago, a young official accompanied the visiting Turkish land forces commander and his wife. The official, now a high-level foreign diplomat, still recalls the good memories from that visit, including the Turkish coffee cup they brought as a gift — a fine coffee cup still used every morning. "Daesh [Islamic State] will commit more and more acts of terror against Turkey and the West," the diplomat says today. "Salafist ideology lures people — people with a worm in their brains. It offers adventures for young people. This is jihad tourism, and people do not understand this is a one-way tour."
We recently met again, a month after an Islamic State (IS) suicide bomber killed 33 pro-Kurdish activists in a small Turkish town on Turkey's border with Syria. "IS's war is not about Israel or anything else," said the diplomat. "All suicide bombings combined in the Middle East are smaller in number than those in Iraq only. It's all about the Sunni-Shia divide."
Anyone honest can only agree with what came next: "You cannot say 'IS is terrorist but Hamas and Hizballah are not.' Hizballah is the Shia version of IS. Hamas, IS and others are the Sunni branches of the same tree."
Those words forcefully remind one of the gigantic Western hypocrisy that justifies Hamas.
"They will understand Hamas better when they will see jihadist bombs exploding in their cities," the diplomat went on. "The terrorists are already targeting Jews on Saturdays, and the differing Islamist sects and on Fridays. Soon they will start coming on Sundays for everyone else."
Coincidentally, about a week after our meeting, Turkey joined the anti-IS coalition forces and started to bomb IS targets in Syria. Too little, too late…
Meanwhile Turkish security forces are hastily trying to crack down on potential Islamic State terror cells inside Turkey; they fear bomb attacks in their own country, and especially at a time when the country goes to renewed parliamentary elections (on November 1).
After several months of reluctance, Turkey parted ways with IS because "they are terrorists." But it remains loyal, though less supportive, to "the other, Sunni, branch of the same tree," Hamas. Turkey's Islamists, who now view IS's Islamists as terrorists, view Hamas's Islamists as perfectly legitimate ideological allies.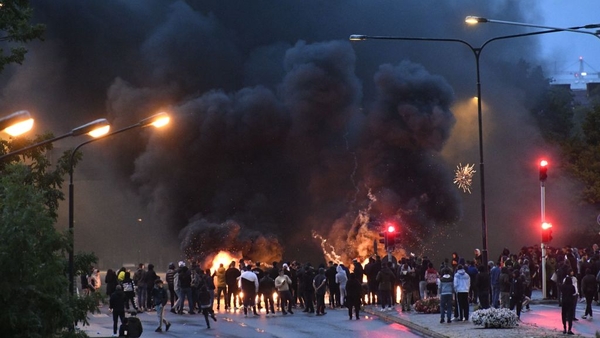 Turkish President (then Prime Minister) Recep Tayyip Erdogan, right, meeting with Hamas leaders Khaled Mashaal (center) and Ismail Haniyeh on June 18, 2013, in Ankara, Turkey. (Image source: Turkey Prime Minister's Press Office)
Recently, Turkish President Recep Tayyip Erdogan scolded the leader of a pro-Kurdish political party because the Kurdish man would not label the Kurdistan Workers' Party (PKK) a terrorist organization, "although they are on EU's and U.S. terror list."
It sounded as if Erdogan was not even aware of what he was saying: Hamas, which he supports, is on the same EU and U.S. terror lists as is the PKK.
Erdogan is trying to cut one branch of the tree while trying to grow the other — knowing all too well that they belong to the same tree.
Burak Bekdil, based in Ankara, is a Turkish columnist for the Hürriyet Daily and a Fellow at the Middle East Forum.