Turkey: Payback Time? by Burak Bekdil August 30, 2015 at 4:00 am
It came as no surprise that the Islamic State recently threatened to "conquer Istanbul."

The AKP, preparing for snap elections on Nov. 1 — only five months after parliamentary elections were held on June 7 — must now fight two asymmetrical wars against radical Islamists and Kurdish separatists at the same time and in three theaters of war: Iraq, Syria and Turkey. It is also calculating the damage the renewed wave of violence could inflict on its popularity in the elections.

---
The Kurdish militants and the jihadists from the Islamic State of Iraq and Syria (Islamic State, or IS), which have been battling each other in northern Syria for the past several months, now have a common enemy: Turkey.
After several months of reluctance, Turkey has just joined a U.S.-led, international coalition fighting IS. Turkey agreed to allow the U.S. military to use Turkish air bases for airstrikes against IS strongholds in Syria. Turkey said on August 24 that it would, together with the U.S., soon launch comprehensive air strikes against IS targets. "The technical talks have been concluded, yesterday, and soon we will start this operation, comprehensive operations, against Daesh [IS]," Turkish Foreign Minister Mevlut Cavusoglu said. One might say, "too little, too late."
Instead of covertly supporting IS, Turkey should long ago have done everything in its military capacity to crush IS before it grew too strong and captured large swaths of lands in Syria and Iraq, both of which neighbor Turkey.
Turkey's half-hearted and belated decision to join the coalition forces targeting IS may bring in some military value added to the campaign. But it also exposes Turkey to IS attacks from inside the country.
A survey last year found that slightly over 11% of Turks did not view the Islamic State as a terrorist organization. That means there are over eight million Turks who somehow sympathize with the group. Eight million versus just 126: The Turkish Justice Ministry revealed that there were only 126 people in Turkish prisons on charges of being a member of IS. Hence the unnerving threat of IS attacks on Turkish cities, most probably by the group's "sleeper cells" inside Turkey. It came as no surprise that IS recently threatened to "conquer Istanbul."
IS has released a 7-minute video clip in Turkish, filmed in Raqqa, the capital of its "Caliphate." Soon, an unidentified Turkish jihadist said, Istanbul would be "conquered" by the armies of the "Caliph":
"Soon, Turkey's east will be dominated by the atheist PKK [Kurdish militants], and the West will be dominated by the Crusaders. They will kill children, rape women, and enslave you. O people of Turkey; before [it is] too late, you should rise up and fight against these atheists, these Crusaders and these traitors. You should also repent. You should condemn democracy, secularism, human-made laws, tomb-worshipping and other devils."
Columnist Mustafa Akyol wrote: "And if we don't do this, we are in trouble. We should 'wait for humiliation on Earth, before punishment in the afterlife.' And ISIL is eager to bring that earthly 'humiliation' in the name of God."
For the moment, IS is a hypothetical threat. If its militants decide to detonate bombs in Turkish cities, it will become real. Meanwhile, Turkey is fighting a more real threat, another asymmetrical war. Since the Kurdish militants that come under various flags like the PKK, YPG or KCK, on July 11 ended a ceasefire they had declared in March 2013, more than 50 members of Turkey's security forces have been killed, mostly in IED (improvised explosive device) attacks across Turkey's predominantly Kurdish southeast. In retaliation, Turkey claims its air strikes against PKK strongholds in northern Iraq have killed more than 700 militants.
The PKK's attacks recently have become a major embarrassment for President Recep Tayyip Erdogan and the ruling Justice and Development Party (AKP) that he founded in 2001. Mourners often protest the presence of government officials at the funerals of soldiers.
One such funeral ceremony was held last weekend. Army Captain Ali Alkan was killed after PKK militants attacked a military outpost in southeastern Sırnak province, on Aug. 21.
More than 15,000 people participated in the service in Alkan's hometown, Osmaniye in southern Turkey. Tensions ran high when politicians from the AKP attempted to take a place in the front row during the prayer service. An infuriated mourner shouted at two AKP members of parliament: "You have nothing to do here. Get out." Protests grew louder and the crowd began to boo the local religious leader, who conducted the ceremony, for making a place for AKP deputies. Such scenes occur almost daily across Turkey.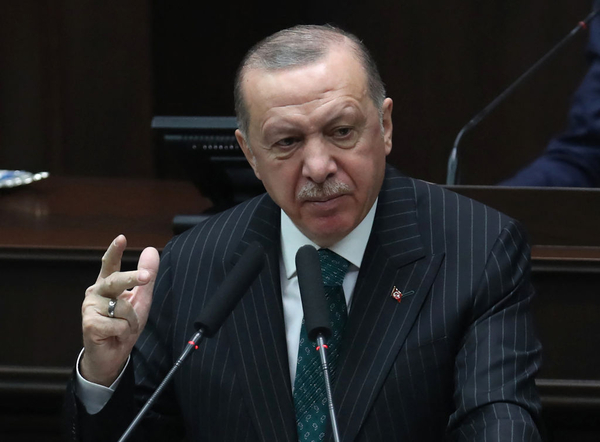 Mourners, politicians and military officers verbally clash at the funeral of army Captain Ali Alkan in Osmaniye, Turkey, on August 21.
The AKP, preparing for snap elections on Nov. 1 — only five months after parliamentary elections were held on June 7 — must now fight two asymmetrical wars against radical Islamists and Kurdish separatists at the same time and in three theaters of war: Iraq, Syria and Turkey. It is also calculating the damage the renewed wave of violence could inflict on its popularity in the elections.
Erdogan and his AKP are fast becoming the victims of their own ambitious, sectarian, Islamist and badly-calculated regional policies, including toward the country's own Kurds. It looks like payback time.
Burak Bekdil, based in Ankara, is a Turkish columnist for the Hürriyet Daily and a Fellow at the Middle East Forum.