The Fairy Tale of "Post-Modern" Turkey by Burak Bekdil
In 2014, one Yeni Akit columnist wrote that a "Gaza fund contribution tax" should apply to Turkish Jews, as well as foreign Jews doing business in Turkey, Turkish nationals with commercial ties to Israel, and any business that maintains a partnership with a Turkish Jew. The penalty for failing to pay the tax should be the revocation of the Jew's business license and the seizure of his property.
It was not even considered shocking when the Turkish man who shot at the journalist Can Dundar outside a courthouse said in his testimony, "I was deeply annoyed by his news reporting … I knew he had been to Britain for a while… I thought he was a British spy…"
The Western euphemism for Turkey's supposedly mild, "post-modern" Islamists, who came to power in 2002, was problematic from the beginning. The past five years has seen the Turkish "post-modern" Islamist's sad funeral — sad because they, in reality, never lived in this universe. They were the brainchild of the optimists sipping their coffee at a Washington café, or a London pub or a Berlin beer house. Now there is just the official funeral service with an empty coffin: there was, in fact, no such a thing as "post-modern" Islamism.
Political Islam, when it wins popular support, tends to adopt direction of the majority rather than the pluralistic route [see Turkey and Egypt]; and when mixed with cultural and religious nationalism in the Orient, it often adopts not just the direction of the majority but also a few militant turns [see Hamas].
It was not even considered shocking when the Turkish man who shot at the journalist Can Dundar outside a courthouse said in his testimony, "I was deeply annoyed by his [Dundar's] news reporting … I knew he had been to Britain for a while… I thought he was a British spy… I planned this [shooting] in order to teach him a lesson."
Why did the man think that a Turkish journalist, declared an undesirable by the country's president, was a British spy? Was it actually because Dundar had been to Britain, like thousands of other Turks do every year? Hardly. It was because the president of the country had loudly labelled him a spy, a traitor, a terrorist — even without a court verdict. Dundar was eventually acquitted of the charges.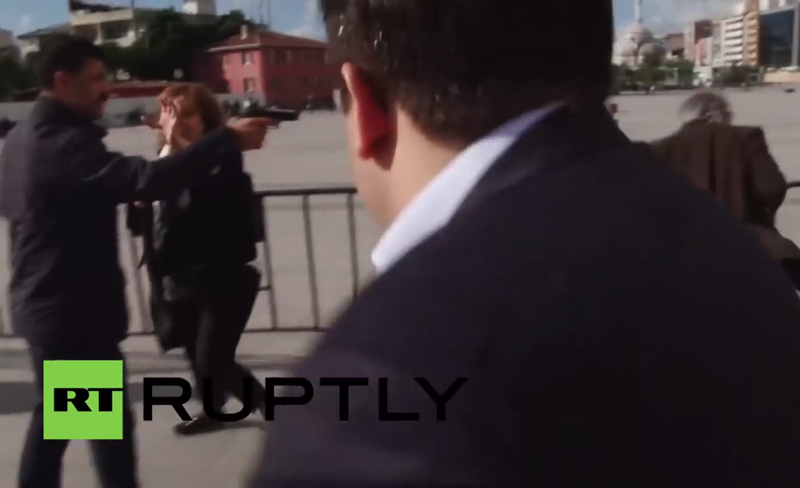 Murat Sahin (left) attempts to shoot journalist Can Dundar (crouching at right, with his back to the camera) outside a court in Istanbul, Turkey, on May 6, 2016. Sahin later stated that "I was deeply annoyed by his news reporting … I knew he had been to Britain for a while… I thought he was a British spy… I planned this [shooting] in order to teach him a lesson." (Image source: RT video screenshot)
In his newly-published book, The Glorious Defeat: The Islamists' Test With Power, the author Levent Gultekin, himself a figure from the Islamist ranks, concludes:
"The war [within] has been won by the Akit line thanks to [President] Erdogan. The Akit approach has captured not just the Islamists but Turkey as a whole … Erdogan has hauled the voters to this line. That [Akit's] is the [political] lingua franca in every field."
The "Akit" in question is the daily newspaper Yeni Akit. It is a fiercely pro-Erdogan, fiercely Islamist newspaper, whose editors often find a seat in the president's private jet on his foreign trips — an expression of the president's appreciation of their less than subtle editorial line.
In 2014, one Yeni Akit columnist wrote that a "Gaza fund contribution tax" should apply to Turkish Jews, as well as foreign Jews doing business in Turkey and Turkish nationals with commercial ties to Israel. He suggested that the tax should apply to any company or business that maintains a partnership with a Turkish Jew. The penalty for failing to pay the tax should be the revocation of the Jew's business license and the seizure of his property.
Shortly before the November 1 general elections, another Yeni Akit columnist claimed that Erdogan would become the new "ecumenical" caliph once he has won the executive presidential powers he so passionately desires: the 105th Caliph!
Yeni Akit also recently published a list of companies under the headline: "Muslims who pay [buy from] these companies are bathing in Palestinian children's blood." The subtitle read: "Muslims who consume these products are financing Israel that occupies Palestine."
The list includes the world's most prominent brands: 17 in the tobacco industry, six fast-food chains, 11 soft-drink producers, 12 technology giants, 15 carmakers and brands of cars, 16 clothing and fashion brands, a whisky producer, two cargo companies, three oil companies, one battery-maker, one famous cigarette lighter producer, dairy products companies, coffee, tea, drinking water producers, detergent, margarine and ice-cream companies and… one credit card company, one of the usual top three that we all use — call it X.
This author asked a friend to call Yeni Akit's subscription office for our little socio-political experiment. This was the conversation:
– Hello, is that subscription?

Yeni Akit: Yes, how can we help you?

– Could I subscribe to your newspaper and pay by credit card?

Yeni Akit: Of course you can. What region or city are you in?

– Ankara, (…) neighborhood. Can I pay with my X credit card?

Yeni Akit: Sure, you are more than welcome.
Ah, those Muslims who bathe in Palestinian children's blood…
Burak Bekdil, based in Ankara, is a Turkish columnist for the Hürriyet Daily and a Fellow at the Middle East Forum.