Swedish Imam to Muslims: "Do Not Befriend the Unbelievers"
He forced the 24-year-old woman to get in his car at gunpoint. He took her to his apartment, where he raped her and bragged about how he had killed ten people. He also explained that since he was a Swedish citizen, he was now free to rape because he could not be deported.

"He of course realizes he is risking a very long prison sentence in the end, and should do whatever he can to avoid it, like get in a car and travel through Europe. That's a pretty safe bet, considering the open borders." — District Attorney discussing an accused murderer, released pending trial.

When asked if there might be terrorists and war criminals that have already been granted asylum in Sweden, Immigration Service Director General Mikael Ribbenvik said: "Yes, that is unfortunately the case."

The obvious risk that they might commit terrorist acts, killing hundreds of Swedes, apparently makes no difference.
On July 1, the Swedish daily Gefle Dagblad revealed that an imam from the northern city of Gävle was the man behind the now-closed website, www.muslim.se, which stated, among other things, that homosexuality is punishable by death. The imam, Abo Raab, is a prominent figure in the Swedish Imam Association, which has received over 400,000 kronor (more than $47,000) from the government to "combat Islamophobia and racism in society." When its officials applied for the money, the association claimed to want to create a professional website containing "factual and pertinent information about Islam" and "to build bridges between Muslims and non-Muslims." But no bridges were built. The website, which was shut down in January for unknown reasons, listed the following as forbidden for Swedish Muslims:
Being homosexual, punishable by death.
Befriending non-believers and liking them.
Joining the communities of the non-believers, joining their political parties, increasing their numbers, adopting their nationalities (except when absolutely necessary), joining their armies or helping them develop weapons.
Imitating their clothing, appearance, speech etc., because this indicates a love for the person or people imitated.
On July 9, the Supreme Court of Sweden ruled that 41-year-old Muslim Ekrem Bregaj will be deported to his home country of Serbia. Mr. Bregaj was sentenced, in his absence, for a crime he committed in 2006: firing his gun in the air. Bregaj, a denizen of the small southern village of Skurup in Sweden, opposed extradition because he claimed that as a Muslim he was at risk of being "discriminated against" in Serbia. An extradition, he claimed, would be a violation of his human rights. The court was not convinced, and ruled that he be kept in custody until the deportation could be executed.
On July 9, the Administrative Court of Härnösand decided that a 39-year-old Somali man will be reimbursed for the plane tickets he bought for his ten children to travel from Ethiopia to Sweden. The man came to Sweden in 2009 and remains "dependent long-term on economic aid," according to the court ruling. When the Immigration Service turned down the request for the airfare for his ten children, the Somali took out a loan and demanded that Social Services reimburse him. When they too said no, he appealed to the Administrative Court, which has now ruled that the Swedish taxpayers should pay for the plane tickets. In all, the bill amounts to 45,000 kronor (about $5,300). The government has since appealed the ruling:
"More and more applications for financial aid keep coming in all over the country. In the investigation pertaining to XX's [the man's name] request regarding economic assistance for travel costs, we contacted several other counties around the country. Through these contacts, we learned that similar applications are rejected because it is not considered reasonable for the county to pay for travel and reunions with relatives from other countries. We see a need for an up-to-date precedential verdict, taking into account the current immigration conditions and how reunions with families/children happen today."
On July 10, alternative media reported that Samiyah M. Warsame, an administrator at the Immigration Service, likes and celebrates "Swedish" jihadis. Her job is to say yes or no to asylum applications (asylum, for obvious reasons, should probably not be granted to Islamists). All the while, she has been writing on Facebook about Swedish jihadis from Örebro: "Oh, masha Allah, how beautiful."
The Swedish civil service and local authorities are apparently trying their best these days tohire as many people of non-Swedish descent as possible. They say it every time they seek new employees. They do this, they say, because they want to create diversity and "mirror society."
These people do not always act in accordance with Swedish bureaucratic tradition, which consists of being very formal, and not, for instance, letting friends and relatives get better treatment. This break with tradition became obvious in 2013, when police arrested two men at the Malmö office of the Immigration Service, suspected of having sold residence permits. The men were convicted, and sentenced in May 2015.
Talal Abdelrahman, a Palestinian, was sentenced to three years in prison, while the other man, a 47-year-old from the Ivory Coast, was acquitted due to some uncertainties concerning dates. Abdelrahman is believed to have made at least half a million kronor ($59,000) from his illegal activities. Amer Ahmed Iskandar, who ran a restaurant in Malmö that was a well-known meeting place for immigrants seeking false papers, was sentenced to 18 months in prison. The verdicts show how employees at the Immigration Service sometimes seem to set rules aside for people living in ethnically parallel societies in Sweden. The convicted ringleader hasappealed the verdict.
On July 14, the Swedish daily Dagens Nyheter wrote that during the first six months of 2015, Sweden's Immigration Service reported 130 asylum seekers to the Security Service because they were considered a threat to national security. This number is greater than the figure for all of 2014.
When asked if there might be terrorists and war criminals that have already been granted asylum in Sweden, Immigration Services Director General Mikael Ribbenvik said: "Yes, that is unfortunately the case. We evolve our methods, but nothing is foolproof, of course. There are examples of war criminals being discovered after the fact."
As more and more jihadis and war criminals come to Sweden, the number of people exposed as such, but who cannot be deported, increases — because they risk death or torture in their home countries. So far this year, 41 asylum seekers have been granted temporary residency status for that reason; last year that number was 20. Most of them are not in custody and can move freely in society; some will never be deported.
The obvious risk that they might commit terrorist acts, killing hundreds of Swedes, apparently makes no difference. "We do not send people to their deaths," says Mikael Ribbenvik.
On July 14, three doctors and a former chief of police in Gothenburg presented a study inLäkartidningen, the magazine of Swedish physicians' union. The study looks at the increasing number of gunshot wounds treated at Swedish hospitals — something that used to be quite a rare occurrence in Sweden but is now a routine part of emergency medicine:
"Caring for these patients puts high demands on the experience and competence of everyone involved. Typically, difficult decisions must be made under immense time constraints. The flow and need for admittance of trauma patients greatly affect how the emergency care is organized. Surveying incidence, injury characteristics, administration and costs is of vital importance to face these new challenges when it comes to allocating resources and developing trauma care."
Between January 1, 2013 and June 30, 2014, 58 people were shot in Gothenburg. Fifty-seven were men; their median age was 26. Most injuries were in their arms and legs. Ten of the patients died. The total care time for the 47 admitted patients who survived was 316 days, putting the net health care cost at 6.2 million kronor ($730,000).
Since the study was concluded, criminal gangs have continued shooting at each other in Gothenburg (map). There were twelve shootings during the first five months of this year. Five young men died, and 16 people were wounded.
On July 14, a 22-year-old Somali man was prosecuted for a brutal rape in Uppsala earlier this summer. The man found his victim, a woman in her twenties, on the street at 5 a.m. He wrestled her to the ground, sat on her, held her arms down and said: "Do you want to live or die?" He repeated the question several times during the rape. Afterward, he fled the scene, but thanks to the victim's description was apprehended a few hours later. At the time of his arrest, he had her cell phone on him. The 22-year-old has previous convictions for making unlawful threats, assault, battery and sexual molestation. However, that did not stop him from writing on Facebook that he thinks people who damage society should be deported from Sweden.
On July 15, a 30-year-old Kurdish man from Iraq was prosecuted for the attempted murder of a 40-year-old woman in Stockholm. The man wanted residency status; to that end, he tried to force the woman to marry him. When she refused, he stabbed her eight times in the face and chest. The knife attack took place on a walkway in a residential area. The woman sustained life-threatening injuries.
On July 16, two Kurdish men, aged 21 and 30, were convicted of being involved in an explosion in Nyköping on March 2. Two people were killed. Police believe the men packing a half-kilogram (1.1 pounds) of explosive material into a metal box when it suddenly went off. It is not known what the bomb was to be used for, but the district court concluded that the device "had no other meaningful use other than to cause people harm." An explosives expert who testified during the trial said he had never before seen such a device, and that the very powerful bomb could have killed or injured people up to 600 meters (650 yards) away.
One of the two convicted men is not a Swedish citizen; and despite this being his eighth conviction for a violent crime in Sweden, he will not be deported to his native Iran. He was sentenced to two years in prison, and his partner in crime to one year and ten months.
On July 17, the Swedish Security Service (Säpo) revealed to date, between 30 and 40 women have traveled from Sweden to Syria to join the Islamic State (ISIS). In an e-mail to the Dagens Eko public radio news program, Säpo wrote that this is a "serious and disturbing turn of events," adding that, "there are no verified reports that these women are actively taking part in combat or training for combat."
Peder Hyllengren of the National Defense College told Dagens Eko that ISIS has a rather large group of sympathizing women in Sweden. "There are at least ten times as many who sympathize, compared to how many have gone," says Hyllengren. "It's about building the caliphate, becoming wives and birthing a new generation of jihadis. They become housewives, but many are very active in spreading the propaganda."
On July 18, the local daily Östra Småland wrote that a group of Christian asylum seekers in the city of Kalmar, after being harassed and threatened by Muslims, had been forced to move from the Immigration Service housing where they were staying. The Muslims demanded that they stop wearing crosses and other Christian symbols, and did not allow them to use joint facilities, such as the kitchen, when Muslims were in there.
Mikael Lönngren, the local Immigration Service manager, told the paper that it was the Christians themselves who decided to move. The Immigration Service does not divide people into groups based on religion or ethnicity, which means that people from different sides of a conflict may end up living together. The reason is said to be a housing shortage. "We presume that those who flee to find a safe haven in our country will follow the laws of the land once they get here," said Lönngren.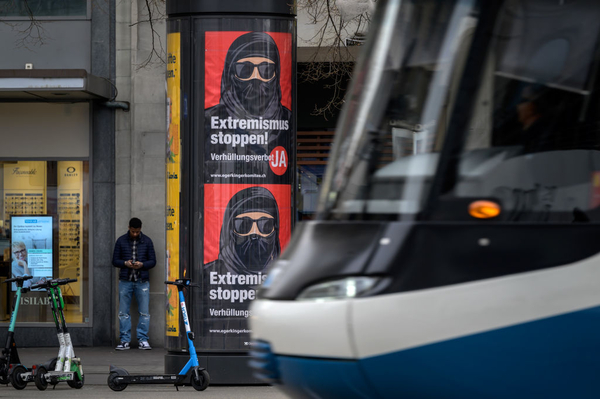 Asylum seekers in the Swedish city of Kalmar, where Christian refugees were forced to move out of public housing after being harassed and threatened by Muslims.
On July 23, in Gothenburg, the Security Service and the National Task Force apprehended two men suspected of terrorism and murder in Syria, and a third man was charged in absentia. It is the first time such a serious crime is being tried in accordance with the terrorism law. The three suspects are Swedish citizens — Yasser Sadek, 26 (wanted by Interpol), Iraqi-born Hassan al-Mandlawi, 32, and Ethiopian-born Al Amin Sultan, 30. A week later, the Court of Appeals released al-Mandlawi, also known as "Mark Abu Osama al-Suwaidi," pending trial.
According to the court, there is little risk of al-Mandlawi obstructing the investigation, because he is in a wheelchair and has difficulty speaking. The district attorney was "surprised" by the release and told daily Dagens Nyheter that even though the man had been stripped of his passport, he may obviously still leave the country: "He of course realizes he is risking a very long prison sentence in the end, and should do whatever he can to avoid it, like get in a car and travel through Europe. That's a pretty safe bet, considering the open borders. Also, there's always the option of getting a fake passport, then you're gone for good," said district attorney Ronnie Jacobsson.
It recently came to light that the father of al-Mandlawi, the handicapped ISIS terrorist, also has a criminal past. As soon as he got his Swedish passport in 2003, he raped a 24-year-old woman — as revenge for her helping two of his daughters escape the "honor culture" he had forced upon them. He forced the woman to get in his car at gunpoint. He took her to his apartment, where he raped her and bragged about how he had killed ten people. He also explained that since he was a Swedish citizen, he was now free to rape because he could not be deported. The man was sentenced to a modest 3.5 years in prison for rape and unlawful threats.
Al-Mandlawi's father also reportedly doused his wife in lighter fluid and struck a match. One of his daughters was granted "protected identity" to escape her father.
On July 23, the daily Sydsvenskan reported that Malmö is the city with the greatest frequency of bombings in all of Scandinavia. Göran Månsson, head of the bomb squad in Malmö, talked about this far-from-flattering record for Sweden's third-largest city. Eighteen explosions have taken place so far in 2015. "Hand grenades are used in about fifty percent of the blasts that occur," says Göran Månsson. "That wasn't the case before. It's frightening and very serious and also poses a great threat to the general public. Once a grenade is thrown, it is uncontrollable."
Also on July 23, the daily Göteborgs-Posten reported that "Sweden is no longer as attractive an asylum country." The Immigration Service, which usually inflates their forecasts, are now predicting a small decline in the number of asylum seekers in 2015 — from 80,000 to 74,000. One reason is said to be Sweden's long waiting periods compared to Germany, which has a fast track, as well as the poor integration practices in Sweden. "It's hard to get housing and jobs, and that affects people's choice of destination," said Immigration Service Director General Anders Danielsson.
Another reason is that it has become more difficult to move north through Europe. France, for example, has implemented border controls on the Italian border. Switzerland is considering doing the same, and Hungary is building a fence along its border with Serbia.
When it comes to the group referred to as "unaccompanied refugee children," the Immigration Service is increasing its forecast from 8,000 to 12,000 arrivals. That estimate leaves Sweden continually in the number one spot in the EU when it comes to taking in so-called unaccompanied refugee children.
On July 29, a small Pride Parade marched through some of Stockholm's Muslim-dominated suburbs. There was heavy media coverage, even by foreign media. The British newspaper,The Independent, for example, wrote an article headlined "Sweden right-wingers plan LGBT march through Stockholm's Muslim-majority neighbourhoods."
The Swedish mainstream media was quick to condemn the initiative, as was the National Coalition for Lesbian, Gay Bisexual, and Transgender Rights (RFSL). There was talk of "pinkwashing," to promote friendliness to sexual preference rights, and also of the parade being an attempt to "provoke" Muslims. Apparently challenging Islam's view of homosexuals as pariahs deserving the death penalty was not acceptable to members of the RFSL. They are evidently content just with arranging Pride Parades in central Stockholm, where no one questions homosexual rights anymore.
The Järva Pride Parade was conducted without incident, even if some Muslims in the area shouted "Allahu Akbar" ["Allah is Greater"] and "We are Muslims, what are you doing here, faggots?" However, the so-called "anti-racists" who had gone to the neighborhood to protest against the allegedly "provoking" parade were assaulted and beaten by masked assailants.
On July 30, the daily Dagens Nyheter revealed that almost 25% of foreign-born applicants to the Swedish armed forces are unable to pass the enrollment test. The extremely slimmed down Swedish military badly wants soldiers with foreign language and cultural skills, but qualified applicants are hard to come by.
According to a survey conducted at the Defense College of Karlstad, where, in 2013, applications to the military basic training were evaluated, 7.3% of Swedish-born men and 8.1% of Swedish-born women failed the test, compared to 24.2% of foreign-born men and 24.7% of foreign-born women.
The questions in the test, covering technical ability, spatial ability, verbal ability and logic, have been the same since the 1990s, when compulsory military service was still a reality in Sweden, and they are adapted to an 18-year-old, male population. The military will now investigate if the foreign-born applicants' problems are due to… discrimination.