Sweden: It Is Considered Racism Only If the Victims Are Not White by Ingrid Carlqvist
"Then he stuck his sword in my friend's belly. One student started screaming but we all still thought it was a prank." — Student, quoted in Expressen.

---

After the double murders at IKEA, there were no such discussions. We have yet to hear anyone condemn the racist motive of the IKEA murderer, Abraham Ukbagabir. When questioned by the police, he said that he had chosen his victims because they "looked Swedish."

What does Sweden's Prime Minister hope to achieve by condemning all violence from Swedes, but ignoring all violence from immigrants?

Just last week in Sweden, six would-be housing facilities for asylum seekers were set ablaze.

There is the risk that as Swedes become more and more convinced that no one speaks for them, they may feel an increasing need to take matters into their own hands.

"Once the lid blows in Sweden, it will happen with much larger force." — Hans Davidsen-Nielsen, editorial columnist for the Danish daily, Politiken.
On Thursday, October 22, Sweden was shocked by yet another act of madness apparently connected to multiculturalism.
Anton Lundin Pettersson, 21, dressed in a black coat and Darth Vader helmet, and armed with a sword and a knife, entered the Kronan school in Trollhättan and started killing. By the time the police shot him down, he had killed one person and wounded three others severely. One of the wounded later died in the hospital.
In many respects, the attack was similar to the one in the Västerås IKEA on August 10 — random people killed because of the color of their skin. In IKEA, whites were killed by a black assailant; at the school, blacks were killed by a white assailant.
The reaction, however, was completely different. After IKEA, there was dead silence. But this school attack is all over the news. A white perpetrator killing black victims is apparently considered far worse than a black perpetrator killing white victims.
Like most schools in Sweden, the doors of the Kronan school, which has many Somali students, are open to the public. A few minutes after 10 am, Anton Lundin Pettersson, a native Swede with no criminal record, took a knife and a sword into Kronan, and began attacking people. Pettersson's first victim was a teaching assistant, Lavin Eskandar, 20, who according to witnesses, tried to protect students but was attacked. He managed to stagger out into the schoolyard before he collapsed and died.
As Pettersson continued his tour of the school, he seemed particular in his choice of victims. One student, thinking Pettersson was dressed for Halloween, even persuaded him to pose for a picture with her two friends on either side. Expressen, a daily, interviewed two students who were in one of the classrooms Pettersson visited. One girl described the horror:
"We saw him through the glass wall and thought it was a prank. He knocked on the door. My friend opened it. He walked into the classroom and checked us all out. Then he stuck his sword in my friend's belly. One student started screaming but we all still thought it was a prank. When we saw the blood spurt, we ran to the side. There is a small room next to the classroom, so everyone ran there."
The police arrived quickly. Two minutes later, they located Pettersson, and when he tried to attack them, they opened fire. Pettersson, hit in the chest, died in the hospital a few hours later.
The next day, the police held a press conference. In security camera footage, Pettersson can be seen marching in school halls. He left light-skinned students alone but attacked blacks. One of the victims, Ahmed Hassan, 15, died in the hospital. Two other victims, a 15-year-old student and a 41-year-old teacher, are hospitalized with severe injuries; according to reports, their condition is now stable.
Even though there is no one to bring to justice, the police are continuing their investigation, to try to establish his motive.
The police also said at the press conference that they had found a suicide note of sorts in the murderer's apartment. The exact wording has not been made public, but according to the police, the letter makes it clear that Pettersson wanted to stop immigration, and that "he did not feel that Sweden is being governed correctly." Policeman Niclas Hallgren said the letter indicated that the act was planned:
"It says that the perpetrator intends to go to the location in question and carry out the attack. It says that this will be done and that the end result may be the death of the perpetrator. … We know that the perpetrator was prepared to end his life there and then, but I cannot go into details about how he saw this happening."
Although everyone has condemned the attack, the internet is also crowded with people questioning the huge difference on how the "establishment" has been reacting. After the IKEA murders, the Swedish government did not make a single public statement, not even to mourn the family's loss. But as soon news broke of the school attack, Prime Minister Stefan Löfvendropped everything and went to Trollhättan to condemn the slaughter, calling it "a black day for Sweden."
Newscasts and television debates were devoted to the attack, and focused on the racist motive. After the double murder at IKEA, there were no such discussions. We have yet to hear anyone condemn the racist motive of IKEA killer, Abraham Ukbagabir, a migrant from Eritrea.
When he was indicted last week, it was revealed that Ukbagabir told police he chose his victims, Carola and Emil Herlin, because they "looked Swedish." According to the forensic psychiatric evaluation, Ukbagabir is "completely self-absorbed and views other people only as a means to meet his own goals."
The double murder he committed was apparently an act of revenge. According to the police report, he said he had felt unfairly treated — he thought he would get to stay in Sweden. He viewed Sweden as his homeland and "if an enemy disturbs you, you have no choice but to defend yourself." The rejection, he told the police, had made him feel like a criminal, and he was angry, offended and disappointed.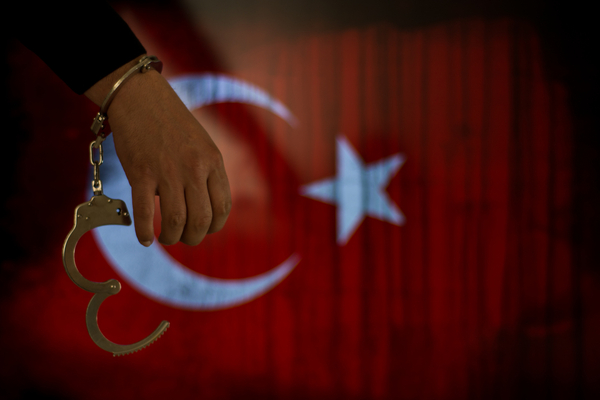 After Abraham Ukbagabir (left), a migrant from Eritrea, murdered two people in an IKEA because they "looked Swedish," Prime Minister Stefan Löfven had nothing to say. After Anton Lundin Pettersson attacked dark-skinned students at a school in Trollhättan, murdering two people, Löfven rushed to the school to condemn the slaughter.
One of the people who reacted strongly to the fundamentally different way these two acts of murder were publicly handled is the blogger Fredrik Antonsson. In a post entitled, "Us and Them," he writes:
"Sweden is in shock. The tragedy in Trollhättan is all over the news… It is all people are talking about, writing about, thinking about … everyone is trying to understand why. Why? Racism. Intolerance. We can already see the contours of an insane act where… 'us against them' was the primary motive. Another illusion of Sweden gone — the illusion that this is a safe, protected country where things like this do not happen. Another question spinning around the internet is why [Prime Minister] Stefan Löfven values people differently. It only takes a little googling to realize that the country's Prime Minister is present and compassionate when it suits him, and completely absent when it doesn't feel right to step forward and condemn the unprovoked, racist violence at an IKEA store…. There is, of course, the argument that atrocities at a school are always worse than any other act of meaningless violence. But by his not dealing with Västerås but dealing with Trollhättan, Löfven has now created an image of caring, but selectively."
The question is: What does Löfven hope to achieve with an agenda of condemning all violence from native Swedes, but ignoring violence from immigrants? He and his advisors probably think that acts such as the racist attack at the school in Trollhättan will make Swedes tone down their criticism of immigration policy, and bow their heads in shame because "all Swedes are racists." There is a great risk, though, that the reaction will be the opposite — that as Swedes become more and more convinced that no one speaks for them, they will feel an increasing need, to take matters into their own hands if they want to change things.
Just last week in Sweden, six would-be housing facilities for asylum seekers were set ablaze: on October 13 in Arlöv, October 17 in Ljungby, October 18 in Kungsbacka, October 20 in Munkedal, October 20 in Upplands Väsby and October 22 in Perstorp. Another fire broke out on Friday, October 23, in Eskilstuna. Fortunately, the buildings were all empty, so no one was hurt.
There is now an imminent danger that the school attack and the torched asylum housing facilities may be followed by many other, possibly worse, criminal acts.
After the IKEA murders, hundreds of Swedes wrote emails and letters to the government, demanding that they do something about the violence against native Swedes in Sweden. The replies contained nothing of any value.
According to editorial columnist Hans Davidsen-Nielsen, of the Danish daily Politiken: "Let us not forget that Sweden has a history of political extremism and violence, expressed among other things through the murders of a Prime Minister [Olof Palme] and a Minister for Foreign Affairs [Anna Lindh]. The climate of debate is cruder in Denmark, but once the lid blows in Sweden, it will happen with much larger force."