Russia's Failed Adventure in Syria by Con Coughlin
Then there is the question of just how long Russia can afford to sustain its expensive military adventure in Syria. The Russian economy already has enough difficulties without having to bear the cost of Mr Putin's latest act of military aggression.

---
Russian President Vladimir Putin may well come to regret agreeing to Iran's request for Moscow to intervene militarily in Syria's brutal civil war.
The shooting down of a Russian warplane over the Syrian border by Turkey has graphically illustrated the risks Moscow faces after the Kremlin agreed to intervene on behalf of Syria's beleaguered President Bashar al-Assad.
Mr Putin took his fateful decision to launch military action in Syria after meeting Major-General Qassem Soleimani, the head of Iran's notorious Quds Force, in Moscow last August. Visiting Moscow shortly after the conclusion of June's deal on the future of Iran's nuclear programme (JCPOA), Soleimani delivered a blunt warning to the Russian leader that the Assad regime, Russia's long-standing strategic ally in the Middle East, faced defeat without outside support.
Major-General Soleimani's intervention was sufficient to persuade Mr Putin to enter the Syria fray, and within weeks Russian SU-24 Sukhoi bombers were regularly attacking the positions of opposition fighters, while forces from Iran's Islamic Revolutionary Guard Corps (IRGC) have been brought in as reinforcements to bolster the ranks of pro-Assad Syrian Army forces and their Lebanese Hizbollah allies.
Yet, even before last week's shooting down of a Russian SU-24 bomber by a Turkish F-16 fighter, there were clear signs that the new joint Russian-Iranian offensive is struggling to make headway against the Syrian rebels.
The first sign that Russia's military intervention was not going according to plan came in October, when a Russian-backed plan to recapture the strategically important northern Syrian city of Hama was halted by stiff rebel resistance. Western intelligence sources say one decisive factor was the delivery to the rebels of 500 U.S.-made TOW anti-tank missiles, believed to have been provided by the Saudis.
In what has since become known locally as the "massacre of the tanks", nearly 20 tanks and armoured personnel carriers fielded by the Assad regime were knocked out of action by the highly accurate TOW missiles.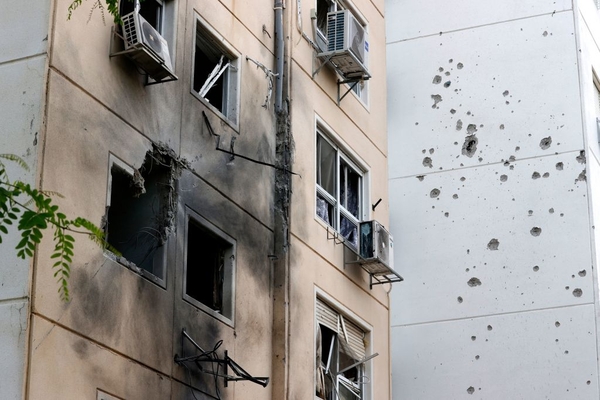 Left: A Russian SU-24 bomber crashing after being shot down by a Turkish F-16 fighter on Nov. 24. Right: A Syrian rebel fighter prepares to fire a TOW missile at an Assad regime tank.
The fierce resistance put up by anti-government forces, which also claimed the lives of several senior Iranian Revolutionary Guard officers, dealt a serious blow to the morale of regime loyalists. It also resulted in a significant change of tactics on the part of the Russians who, aware of the limitations of the regime's ground forces, have increased their reliance on air power to achieve their objective of defeating the rebels.
But while the Russians insist that their main attacks in Syria are being directed against fighters associated with the so-called Islamic State (ISIS), the reality is that they are bombing a large variety of anti-Assad forces – including those backed by the U.S.-led military coalition. One of the explanations given for the Turks shooting down a Russian SU-24 jet was that it had been bombing rebel groups backed by Turkey rather than ISIS, as the Russians later claimed.
The lack of progress made in Syria since Mr Putin first authorized Russian military involvement could soon have serious repercussions for the Kremlin.
Public support for the mission in Russia is starting to wane, after Investigators suggested the bombing of a Russian passenger jet over Egypt's Sinai Peninsula at the end of October, killing all 224 on board, was carried out by ISIS terrorists in retaliation for Moscow's military campaign.
Many Russians are also wary of the country becoming embroiled in another long, drawn-out military entanglement, as happened in Afghanistan in the 1980s and ultimately ended with the Soviet Union suffering an ignominious defeat.
And then there is the question of just how long Russia can afford to sustain its expensive military adventure in Syria. The Russian economy already has enough difficulties without having to bear the cost of Mr Putin's latest act of military aggression. Moscow's invasion of Afghanistan in the 1980s ultimately bankrupted the Soviet Union: the Syrian conflict could have a similarly catastrophic effect on modern Russia.