Obama Will Be the Only Person Sticking to Iran Deal by Amir Taheri
Sometime this week, President Obama is scheduled to sign an executive order to meet the Oct. 15 "adoption day" he has set for the nuclear deal he says he has made with Iran. According to the president's timetable the next step would be "the start day of implementation," fixed for Dec. 15.
---
But as things now stand, Obama may end up being the only person in the world to sign his much-wanted deal, in effect making a treaty with himself.
The Iranians have signed nothing and have no plans for doing so. The so-called Joint Comprehensive Plan of Action (JCPOA) has not even been discussed at the Islamic Republic's Council of Ministers. Nor has the Tehran government bothered to even provide an official Persian translation of the 159-page text.
The Islamic Majlis, the ersatz parliament, is examining an unofficial text and is due to express its views at an unspecified date in a document "running into more than 1,000 pages," according to Mohsen Zakani, who heads the "examining committee."
"The changes we seek would require substantial rewriting of the text," he adds enigmatically.
Nor have Britain, China, Germany, France and Russia, who were involved in the so-called P5+1 talks that produced the JCPOA, deemed it necessary to provide the Obama "deal" with any legal basis of their own. Obama's partners have simply decided that the deal he is promoting is really about lifting sanctions against Iran and nothing else.
So they have started doing just that without bothering about JCPOA's other provisions. Britain has lifted the ban on 22 Iranian banks and companies blacklisted because of alleged involvement in deals linked to the nuclear issue.
German trade with Iran has risen by 33 percent, making it the Islamic Republic's third-largest partner after China.
China has signed preliminary accords to help Iran build five more nuclear reactors. Russia has started delivering S300 anti-aircraft missile systems and is engaged in talks to sell Sukhoi planes to the Islamic Republic.
France has sent its foreign minister and a 100-man delegation to negotiate big business deals, including projects to double Iran's crude oil exports.
Other nations have also interpreted JCPOA as a green light for dropping sanctions. Indian trade with Iran has risen by 17 percent, and New Delhi is negotiating massive investment in a rail-and-sea hub in the Iranian port of Chah-Bahar on the Gulf of Oman. With help from Austrian, Turkish and United Arab Emirates banks, the many banking restrictions imposed on Iran because of its nuclear program have been pushed aside.
"The structures of sanctions built over decades is crumbling," boasts Iranian President Hassan Rouhani.
Meanwhile, the nuclear project is and shall remain "fully intact," says the head of Iran's Atomic Energy Agency, Ali Akbar Salehi.
"We have started working on a process of nuclear fusion that will be cutting-edge technology for the next 50 years," he adds.
Even before Obama's "implementation day," the mullahs are receiving an average of $400 million a month, no big sum, but enough to ease the regime's cash-flow problems and increase pay for its repressive forces by around 21 percent.
Last month, Iran and the P5+1 created a joint commission to establish the modalities of implementation of an accord, a process they wish to complete by December 2017 when the first two-year review of JCPOA is scheduled to take place and when Obama will no longer be in the White House. (If things go awry Obama could always blame his successor or even George W Bush.)
Both Obama and his Secretary of State John Kerry have often claimed that, its obvious shortcomings notwithstanding, their nuke deal with the "moderate faction" in Tehran might encourage positive changes in Iran's behavior.
That hasn't happened.
The mullahs see the "deal" as a means with which Obama would oppose any suggestion of trying to curb Iran.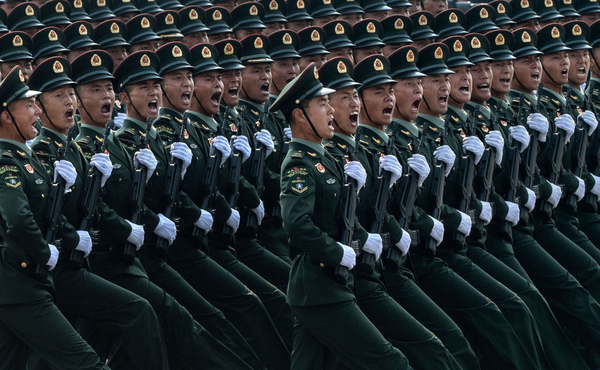 "Obama won't do anything that might jeopardize the deal," says Ziba Kalam, a Rouhani adviser. "This is his biggest, if not the only, foreign policy success."
If there have been changes in Tehran's behavior they have been for the worst. Iran has teamed up with Russia to keep Bashar al-Assad in power in Syria, mocking Obama's "Assad must go" rhetoric. More importantly, Iran has built its direct military presence in Syria to 7,000 men. (One of Iran's most senior generals was killed in Aleppo on Wednesday.)
Tehran has also pressured Iraqi Premier Haidar al-Abadi's weak government to distance itself from Washington and join a dubious coalition with Iran, Russia and Syria.
Certain that Obama is paralyzed by his fear of undermining the non-existent "deal" the mullahs have intensified their backing for Houthi rebels in Yemen. Last week a delegation was in Tehran with a long shopping list for arms.
In Lebanon, the mullahs have toughened their stance on choosing the country's next president. And in Bahrain, Tehran is working on a plan to "ensure an early victory" of the Shiite revolution in the archipelago.
Confident that Obama is determined to abandon traditional allies of the United States, Tehran has also heightened propaganda war against Saudi Arabia, now openly calling for the overthrow of the monarchy there.
The mullahs are also heightening contacts with Palestinian groups in the hope of unleashing a new "Intifada."
"Palestine is thirsty for a third Intifada," Supreme Guide Khamenei's mouthpiece Kayhan said in an editorial last Thursday. "It is the duty of every Muslim to help start it as soon as possible."
Obama's hopes of engaging Iran on other issues were dashed last week when Khamenei declared "any dialogue with the American Great Satan" to be" forbidden."
"We have no need of America" his adviser Ali-Akbar Velayati added later. "Iran is the region's big power in its own right."
Obama had hoped that by sucking up to the mullahs he would at least persuade them to moderate their "hate-America campaign." Not a bit of that.
"Death to America" slogans, adoring official buildings in Tehran have been painted afresh along with US flags, painted at the entrance of offices so that they could be trampled underfoot. None of the US citizens still held hostages in Iran has been released, and one, Washington Post stringer Jason Rezai, is branded as "head of a spy ring "in Tehran. Paralyzed by his fear of undermining the non-existent deal, Obama doesn't even call for their release.
Government-sponsored anti-American nationwide events are announced for November, anniversary of the seizure of the US Embassy in Tehran. The annual "End of America" week-long conference is planned for February and is to focus on "African-American victims of US police" and the possibility of "self-determination for blacks."
According to official sources "families of Black American victims" and a number of "black American revolutionaries" have been invited.
Inside Iran, Obama's "moderate partners" have doubled the number of executions and political prisoners. Last week they crushed marches by teachers calling for release of their leaders. Hundreds of trade unionists have been arrested and a new "anti-insurrection" brigade paraded in Tehran to terrorize possible protestors.
The Obama deal may end up as the biggest diplomatic scam in recent history.