Nigeria's Muslim Government Targeting Christians; A Pass to Boko Haram by Con Coughlin
President Muhammadu Buhari, a former military dictator, rather than concentrating his efforts on Boko Haram, has instead mounted a campaign of intimidation against his Christian opponents in the south of the country.50,000 children are facing death by starvation, according to Western aid officials. In May, the Nigerian military killed at least 15 people at a peaceful Biafran protest.
"Mr Buhari is diverting vital resources away from the campaign to pursue his own political agenda," explained a senior Western official. "The Nigerian government, which is receiving significant amounts of foreign aid, needs to understand that its main priority is to deal with Boko Haram, and also to make sure that Nigeria does not suffer the worst humanitarian disaster in its history."
The failure of Nigeria's Muslim President Muhammadu Buhari to tackle the Islamist fanatics of Boko Haram has resulted in an estimated 50,000 children facing death by starvation, according to Western aid officials.
A total of 500,000 people have been made homeless during Nigeria's bitter seven-year conflict with Boko Haram, and aid workers now fear the vast majority of them are in urgent need of food, shelter and medical care.
But hopes that Mr Buhari would intensify the military effort to destroy Boko Haram, an Islamist group with close links to the Islamic State in Iraq and the Syria (ISIS), are fading, following the Nigerian leader's decision to promote his Muslim allies to key government appointments at the expense of his Christian political opponents.
Last month Stratfor, which provides business with geopolitical analysis, reported there was growing frustration in northern Nigeria over the blatant favouritism the president is displaying towards his Muslim allies.
According to Stratfor, 77 of the 122 appointments Mr Buhari has made since his accession to power in May last year have gone to northerners, increasing ethnic tensions with the predominantly Christian south of the country.
Western officials say Mr Buhari's obsession with settling scores with his political opponents has had a negative impact on Nigeria's military campaign against Boko Haram, and left the government unable to cope with the mounting humanitarian disaster in the north of the country.
The French charity Doctors Without Borders is now warning that a total of 244,000 children have been left homeless and hungry as a result of the fighting, and that one in five of them will die in the coming weeks unless urgent aid is provided. A spokesman for the children's charity, Unicef, commented: "Some 134 children on average will die every day from causes linked to acute malnutrition."
Aid officials believe that much of the blame for this disastrous state of affairs lies with the government of Mr Buhari, a former military dictator, who, rather than concentrating his efforts on Boko Haram, has instead mounted a campaign of intimidation against his Christian opponents in the south of the country.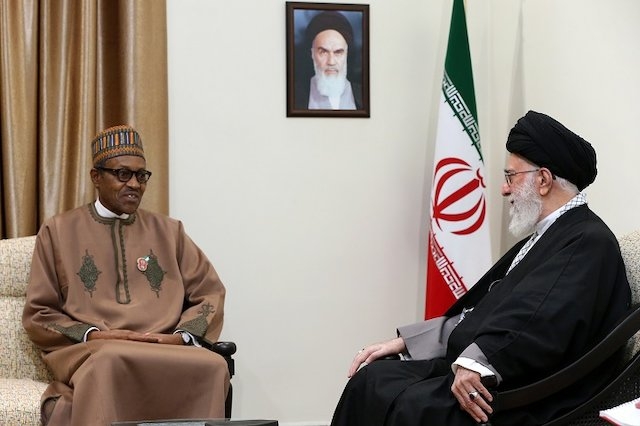 Nigerian President Muhammadu Buhari, rather than concentrating his efforts on Boko Haram, has instead mounted a campaign of intimidation against his Christian opponents in the south of the country. Pictured above, Buhari (left) meets with Iran's Supreme Leader, Ayatollah Ali Khamenei on November 23, 2015, in Iran. (Image source: khamenei.ir)
A senior Nigerian security officer recently confided to Western diplomats that so many of Mr Buhari's political opponents had been rounded up that Nigeria's prison system could no longer cope.
And Mr Buhari's decision to target supporters of the country's former Christian president, Goodluck Jonathan, in the south of the country, recently prompted criticism from British Foreign Secretary Philip Hammond, who said, "It's obviously a major concern."
Mr Buhari's tactics have also succeeded in reviving tensions with Nigeria's Biafran community in the south of the country, who were involved in a brutal civil war for independence in the 1960s.
In May, the Nigerian military killed at least 15 people at a peaceful Biafran protest.
"One of the reasons we have this humanitarian crisis in northern Nigeria is that Mr Buhari is diverting vital resources away from the campaign to pursue his own political agenda," explained a senior Western official. "The Nigerian government, which is receiving significant amounts of foreign aid, needs to understand that its main priority is to deal with Boko Haram, and also to make sure that Nigeria does not suffer the worst humanitarian disaster in its history."
Mr Coughlin is Defence and Foreign Affairs Editor of London's Daily Telegraph.
© 2016 Gatestone Institute. All rights reserved. The articles printed here do not necessarily reflect the views of the Editors or of Gatestone Institute. No part of the Gatestone website or any of its contents may be reproduced, copied or modified, without the prior written consent of Gatestone Institute.