Islam and Islamism in America in 2015: Part II April-June 2015 by Soeren Kern
More than half (51%) of Muslims in America believe they should "have the choice of being governed according to Sharia." Only 39% of those polled said that Muslims in the U.S. should be subject to American courts. Nearly a quarter believed that, "It is legitimate to use violence to punish those who give offense to Islam by, for example, portraying the prophet Mohammed." Nearly one-fifth of Muslim respondents said that the use of violence in the U.S. is justified in order to make Sharia the law of the land in this country. – Poll commissioned by the Center for Security Policy, Washington, D.C.
"Ramadan is a special prayer time, a time for religion. We double-park here every Friday and they [allow it], but today they gave us all tickets, almost 100 cabs. This has never happened before. I can't help but to think they are being prejudiced. They don't understand. We have to be here." – Mohammad Zaman, New York City cab driver.
"We have no way … to know who these people are … we don't have databases on these individuals so we can't properly vet them, to know where they came from, to know what threat they pose." – Michael McCaul, Chairman of the House Committee on Homeland Security, commenting on the Obama administration plan to resettle Syrian refugees in the U.S.
ISIS is operating training camps just a few miles from El Paso, Texas. – Judicial Watch, citing Mexican law enforcement and intelligence sources.
Officials at Mason High School in Mason, Ohio, canceled "hijab day" after parents expressed opposition. Female students were asked to wear a headscarf, or hijab, for an entire school day, followed by a time for reflection and discussion.
The following is a chronological survey of some of the main stories about Islam and Islamism in America during the second quarter of 2015. Part 1 of this series can be found here.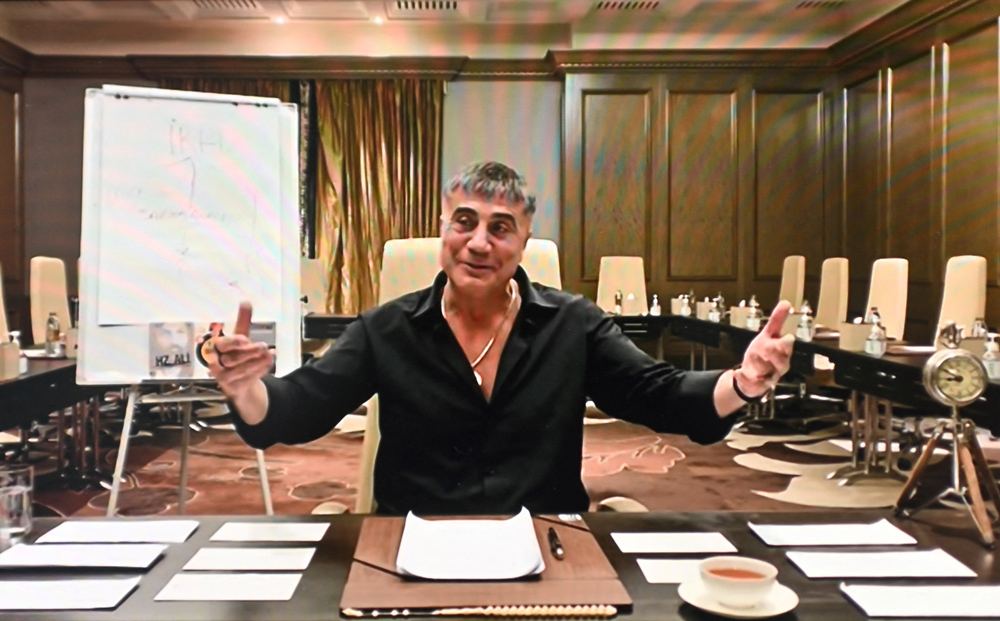 Left: In June 2015, the New York Police Department issued parking tickets to more than 100 Muslim cab drivers parked illegally outside a mosque on the Upper West Side during Ramadan. Right: In January 2015, after complaints from Muslim students at the University of Minnesota, the university ordered that posters depicting a caricature of Mohammed be taken down. The ban was later rescinded.
APRIL 2015
April 1. Ahlam Ahmed, an 18-year-old year-old from Queens, said she wanted to become the first female Muslim firefighter in New York City. Ahmed stands five feet tall and weighs just 105 pounds. In an interview with the Village Voice, Ahmed expressed more concern over the dress code than the physical requirements for the job. "I have to be covered," she said. "I love wearing the scarf. It's for protection." FDNY press officer Elisheva Zakheim said: "We try to accommodate religious practices, but safety is our first concern, be it male or female. We approach a lot of these questions on a case-by-case basis."
April 2. A study by the Washington, DC-based Pew Research Center forecast that, if current trends continue, there will be more Muslims in North America than Jews by 2035. The study, "The Future of World Religions: Population Growth Projections, 2010-2050," states that in the United States, Muslims will comprise 2.1% of the population in 2050, up from 0.9% in 2010. Jews, meanwhile, will fall to 1.4% of the U.S. population from 1.8% in 2010.
April 2. A newsletter distributed by the Republican Central Committee in Bonneville County, Idaho, included an article, "Islam in Idaho," which warned that Muslims are "infiltrating" the state, and that Muslims have been taught to "be ready to rise up and kill" non-Muslims. The article called on readers to "demand that our lawmakers and law enforcers pay attention and ascertain whether or not there is a potential threat."
April 7. U.S. President Barack Obama, speaking at an Easter prayer breakfast at the White House, criticized "less-than-loving" Christians. His remarks came just days after he sanitized any reference to Islam after jihadists slaughtered 148 Christians at a college in Garissa, Kenya. Bill Donohue, president of the Catholic League, said Obama's comments at the prayer breakfast were "very disturbing." He added:
"This comes right on the heels of Muslim madmen singling out Christians, calling them out by name, knowing which ones they wanted to execute, in Kenya. We have a president who never mentions the word 'Christians' except when he wants to denigrate them."

He doesn't want to offend Muslims. But he obviously doesn't mind offending Christians. Somehow it's okay to speak about Christians disappointing him, because they don't always act with love. Well, that's true. But what a grand opportunity to make a statement about what happened last week in Kenya. And once again, he's silent with Christians when it comes to us being the victims of genocide."
April 7. A scheduled screening of "American Sniper" at the University of Michigan was abruptly cancelled after school officials received complaints that the film perpetuates "negative and misleading stereotypes" against Muslims. A statement said: "While our intent was to show a film, the impact of the content was harmful, and made students feel unsafe and unwelcomed at our program." On April 16, the university reversed its decision.
April 8. Writing in a magazine called Index on Censorship, the organizers of a women's conference at the University of South Dakota recounted attempts by Muslim groups to ban a screening of Honor Diaries, a documentary film about the worldwide problem of honor killings and other violence against women.
April 8. The Council on American-Islamic Relations (CAIR) demanded that a high school teacher in Richmond, Texas, be disciplined for distributing "virulently anti-Muslim" material to students. The 8-page handout, distributed in a senior economics class at Richmond's Foster High School, said that "Islam is more of an ideology than a religion. It is also an ideology of war." The document also said that Muslims believe all governments except Islamic ones should be overthrown. "Only a strong response to this attempt at student indoctrination will send a message that our schools must never be incubators of hate," said CAIR.
April 10. A HuffPost/YouGov poll found that more than half (55%) of Americans say they have unfavorable views of Islam, and six in 10 either are not interested or do not know whether they want to learn more about the faith. Just 7% said they had a very favorable view of the religion, and 14% said they saw it somewhat favorably.
April 13. Writing in Time magazine, Muslim feminist Asra Nomani described how Muslim groups pressed Duke University to cancel a speech she was invited to give to argue for a progressive, feminist interpretation of Islam in the world. The president of the Duke chapter of the Muslim Students Association sent an email to Muslim students about Nomani's "views" and alleging that she was in a nefarious "alliance" with "Islamophobic speakers." After she asked for evidence against her, Duke University re-invited her. Nomani wrote:
"This experience goes beyond feminism to a broader debate over how too many Muslims are responding to critical conversations on Islam with snubs, boycotts, and calls for censorship, exploiting feelings of conflict avoidance and political correctness to stifle debate. As a journalist for 30 years, I believe we must stand up for America's principles of free speech and have critical conversations, especially if they make people feel uncomfortable.

"By standing on stage, I was standing up to the forces in our Muslim communities that are increasingly using tactics of intimidation and smears such as "Islamophobe," "House Muslim," "Uncle Tom," "native informant," "racist" and "bigot" to cancel events with which they disagree.

"These dynamics of silencing are often used against women such as Ayaan Hirsi Ali, a Somali-born activist and author of a new book, Heretic. Brandeis University uninvited her from speaking after protests from the Council on American-Islamic Relations and the Muslim Students Association last year, and the Muslim Students Association at Yale University protested her speech at the university last fall."
April 13. Nearly 300 Muslim delegates from more than 20 states met with elected officials and congressional staffers on Capitol Hill during the first-ever National Muslim Advocacy Day. The event was sponsored by the US Council of Muslim Organizations (USCMO), a coalition of American Muslim groups, some of which are linked to the Muslim Brotherhood. Former FBI counterterrorism agent John Guandolo said the event was a "cunning bid by radical Islam to gain political power in the United States."
April 14. Judicial Watch, citing Mexican law enforcement and intelligence sources, reported that ISIS is operating training camps just a few miles from El Paso, Texas:
"The exact location where the terrorist group has established its base is around eight miles from the U.S. border in an area known as "Anapra" situated just west of Ciudad Juárez. Another ISIS cell to the west of Ciudad Juárez, targets New Mexico towns for easy access to the United States.

"During the course of a joint operation last week, Mexican Army and federal law enforcement officials discovered documents in Arabic and Urdu, as well as "plans" of Fort Bliss. Muslim prayer rugs were recovered with the documents during the operation.

"According to these same sources, "coyotes" engaged in human smuggling — and working for Juárez Cartel — help move ISIS terrorists through the desert and across the border. These specific areas were targeted for exploitation by ISIS because of their understaffed municipal and county police forces, and the relative safe-havens the areas provide for the unchecked large-scale drug smuggling that was already ongoing.

"Mexican intelligence sources report that ISIS intends to exploit the railways and airport facilities in the vicinity. The sources also say that ISIS has "spotters" to assist with terrorist border crossing operations. ISIS is conducting reconnaissance of regional universities; the White Sands Missile Range; government facilities in Alamogordo, NM; Ft. Bliss; and the electrical power facilities near Anapra and Chaparral, NM."
April 14. Students at Union Grove High School in Wisconsin were asked to "pretend you're a Muslim" and "give three examples of what you do daily for your religion and any struggles you face." WISN talk radio host Vicki McKenna posted the writing assignment on Twitter. "I feel that the purpose of the assignment is to show prejudices towards Muslims in America or to invent them or exaggerate them," said one parent.
April 14. The Justice Department said U.S. citizens and residents can now find out whether they are on the "no-fly" list and possibly receive a summary of the reasons for their placement in the secret database. Around 47,000 people are on the no-fly list, 800 of whom are Americans. They are barred from boarding a U.S. carrier, a U.S.-bound flight or entering U.S. airspace.
April 16. A legislative committee in Augusta, Maine, voted 8-2 to reject a bill that attempted to codify the state and U.S. constitutions as the law of the land. The legislation, LD 330, was modeled after a law passed in Tennessee aimed at preventing the use of Muslim Sharia law in state courts there.
April 17. Officials at Mason High School in Mason, Ohio, canceled "hijab day" after parents expressed opposition. Female students were asked to wear a headscarf, or hijab, for an entire school day, followed by a time for reflection and discussion. Principal Mindy McCarty-Stewart said the "Covered Girl Challenge," sponsored by MHS' Muslim Students Association, was meant to combat stereotypes Muslim women may face when wearing head coverings. Former school board candidate Sharon Poe said: "My belief is wearing these hijabs represents the oppression of women and Sharia law. I do not recall ever getting an email announcing a Christian Cross Wearing day or a booth for information about the Christian persecution from Islamic terrorists. What happened to the argument of the separation of church and state?"
April 20. The US Council of Muslim Organizations (USCMO), a coalition of groups, defended Turkey ahead of Armenian Genocide Remembrance Day on April 24. The USCMO published a statement opposing any recognition of the genocide of Armenian Christians in 1915 by the Ottoman Turks. The group claims there has not been a "proper investigation of these events by independent historians."
April 20. Turkish media reported that U.S. President Barack Obama had agreed to accompany Turkish President Recep Tayyip Erdogan at the inauguration ceremony of a $100 million mega-mosque in Lanham, Maryland.
April 22. Amir from Seattle, Washington, sought advice on his student loans from financial guru Steve Rhode:
"I recently called to ask if I could get a lower pay-off amount as the original loans were 32K and now they are up to about 64K because of deferment and interest. They said no. My conditions have changed. I was born into Islam, however, never knew much about my religion. Since 2012, I have been learning more about my faith and it is strictly forbidden in my faith to have dealings with interest. I am offering to pay off the original amount I owe. However, due to religious reasons, I would like them to recognize that my awareness and conditions have changed from the time of originally accepting the loan. Can I get the interest wiped out and close this account and case with just paying the original amount borrowed?"
April 22. Mohamed S. Abdullahi, 30, of Phoenix, Arizona, was arrested after physically and sexually assaulting a woman after their arranged marriage. Police said the victim's parents had married her to Abdullahi without her knowledge. After she learned of the marriage, she fled the state, but returned two weeks later to finish high school. The victim's family members reportedly took her to Abdullahi's residence against her will on April 20. Police said Abdullahi punched, bit and strangled her before sexually assaulting her.
April 23. In a letter, U.S. Representatives Keith Ellison (D-MN) and André Carson (D-IN) asked the Obama administration to ban Dutch lawmaker Geert Wilders from visiting the United States because of his anti-Islam views: "We respectfully request that the U.S. government deny Mr. Wilders entry due to his participation in inciting anti-Muslim aggression and violence. Mr. Wilders' policy agenda is centered on the principle that Christian culture is superior to other cultures."
April 24. The U.S. Justice Department said it would "monitor" an Arkansas gun range that declared itself a "Muslim-free zone." The Council on American-Islamic Relations (CAIR) complained about statements by Jan Morgan, the owner of Gun Cave Shooting Range in Hot Springs. In a letter addressed to Attorney General Eric Holder, CAIR said the range was "systematically banning Muslims from a place of business" and that doing so was "a violation of federal laws prohibiting racial and religious discrimination."
April 24. The University of Maryland (UMD) postponed a screening of the film, American Sniper, after the UMD's Muslim Students Association complained that the film "only serves to fuel hatred, promote Islamophobia, and discriminate against Muslim individuals." One of UMD's most famous graduates, retired American football quarterback and current sports commentator Boomer Esiason, tweeted he was "never donating another dime" to the school. "As a 9/11/01 victim I'm deeply saddened and insulted. #ChrisKyle is a hero!" Pastor Franklin Graham wrote:
"Can you believe that the University of Maryland canceled a screening of the movie American Sniper after Muslim students complained? Shame on the University of Maryland for listening to these voices! If these Muslim students can't support the military members who do their job to protect us, let them leave America and go to a Muslim country. God bless America and our heroes!"
April 28. A middle school teacher in Georgia was fired after she criticized President Barack Obama and his supporters in front of students. Nancy Perry allegedly told students at Dublin Middle School that Obama is Muslim and Christians should not support him.
April 29. The board of the Metropolitan Transportation Authority (MTA) voted 9-2 to ban political and religious ads on all subways and buses in New York City. The move came a week after Manhattan federal Judge John Koeltl ordered the MTA to run an ad from the American Freedom Defense Initiative, a free speech advocacy group. The ad featured a Muslim man with his face covered and the Hamas quote: "Killing Jews is worship that draws us close to Allah."
April 29. An internal investigation found that the College of Liberal Arts at the University of Minnesota did not violate university policies on discrimination when it published a flyer depicting a caricature of Mohammed. Controversy erupted in January, when several professors organized a panel discussion about the Charlie Hebdo massacre. The panel was promoted with a flyer which recreated a Charlie Hebdo cover, with a red "CENSORED" stamp on top of it. After Muslim students complained, the university ordered that the posters be taken down, but then reversed the ban, saying it was a mistake. "There is no question in my mind that this poster was protected speech," said Jane Kirtley, a professor of media ethics and law. Professor Bruno Chaouat, who helped to organize the event, said the university's decision to launch an investigation was part of a worrisome trend: "I think what's going on is a global problem … of self-censorship."
MAY 2015
May 1. The Islamic Society of Milwaukee, Wisconsin, purchased a former Lutheran church across from the University of Wisconsin-Milwaukee Union and will convert it into a mosque for a growing east side Muslim community. The Islamic Society purchased property — including a 3,150-square-foot worship space and adjacent triplex — for $700,000. In March, the Islamic Society opened a new $3 million mosque in Brookfield — a first for Waukesha County.
May 3. Elton Simpson, 30, and Nadir Hamid Soofi, 34, were killed by police after they opened fire outside the Muhammad Art Exhibit and Cartoon Contest in Garland, Texas. ISIS claimed responsibility for the shooting, believed to have been the first ISIS-inspired attack on U.S. soil. Simpson, a convert to Islam with a long history of extremism, had been prosecuted in 2010 for lying to the FBI after he spoke of joining Al Shabaab, a terrorist group in Somalia.
May 3. A contract employee at Syracuse Hancock International Airport in Syracuse, New York, was charged with making a terrorist threat after he said he would bring a gun to work and "shoot everybody." Mohammad Salak, a 33-year-old employee of the company Envoy, hired by United Airlines to handle ground services, became the focus of an investigation after fellow employees accused Salak of saying:
"They don't know where I'm from. I've been in wars. I've killed people and killing somebody is nothing to me. I'll leave here and go get my mask and my gun and come and kill everybody."
Police later determined the threats were directed at fellow employees, not travelers or members of the public passing through the airport. The Onondaga County District Attorney's Office significantly reduced the initial charge against Salak from the felony of making a terroristic threat, to misdemeanor menacing, then to disorderly conduct.
May 4. A new instruction manual issued by the Islamic State advises its supporters in the United States and Europe on ways to disguise themselves and their motives when trying to plan and carrying out "lone wolf" attacks. The guide notes:
"Don't make it too obvious you have become a practicing Muslim. For example: If you haven't grown a beard, don't grow it now, because you will bring unwanted attention onto yourself. Mujahideen in Muslim lands remove their beards for deceptive purposes."

"When a Muslim goes out in public, he wants to fit into society to make himself look as normal as possible. Remember this isn't because he fears his Islamic identity, but he is doing this so he is not suspected of being an outsider enemy."

"Making yourself look more friendly and open minded to the Western public. For example: Muslims who call themselves by a Western nickname gain more acceptances by their non-Muslim colleagues."

"People with Islamic names get less jobs than those with Islamic names. This alias might be important if you need an important position in a specific job, i.e. Mujahideen send people to work in power plants or enemy governmental positions to spy on and leak reports to the Islamic State leadership (as double agents)."
May 6. Carmen Harlan, an anchorwoman for WDIV, NBC TV's local affiliate in Detroit, Michigan, angered local Muslims with comments she made about the ISIS threat in Michigan: "Given the fact that we have the largest Arab population outside the Middle East, I guess this [a higher risk of ISIS threats] should not come as a real surprise."
The American-Arab Anti-Discrimination Committee (ADC) called for an apology, saying that Harlon was guilty of making "blanket generalizations about an entire group, unfairly exposing Muslim-Americans and Arab-Americans to contempt and ridicule while subjecting them to marginalization in their schools, places of employment, and other spheres of society."
May 7. Noelle Velentzas, 27, and Asia Siddiqui, 31, both of Queens, New York, pleaded not guilty to charges of planning to build an explosive device for ISIS-inspired attacks in New York City. The two were arrested on April 2. Police searching their homes found gas tanks, a pressure cooker, fertilizer, handwritten notes on recipes for bomb making and jihadist literature. Velentzas told an informant that she could not understand why American citizens were traveling overseas to wage jihad when they could simply "make history" at home, according to court papers.
May 8. Police in San Jose, California, arrested Mohammad Khaliqi, 31, for attempting to rape a 13-year-old girl as she returned home from school. The girl told investigators that Khaliqi had forced his way through the front door of her home as she went inside. She fought him off and he fled before police arrived. The girl then locked the door after he left, hid in a closet and texted her father: "DADDY COME HOME NOW. SOME GUY TRIED TO RAPE ME."
May 13. The planning commissioner of El Monte, a city in Los County, California, faced pressure to resign after he wrote that a ban on Islam "sounds good" on his Facebook page. Art Barrios shared a news article on Facebook with the headline "China makes major moves to ban Islam." He added a comment: "Sounds good maybe the rest of the world should do the same." The Council on American-Islamic Relations (CAIR) called for his resignation. Barrios said his Facebook post was in reference to Islamic extremists "that are going out and killing other people." He said:
"I thought it was about time that we stop kowtowing to the Islam that's doing the racist things and doing the things that are bad for any religion. I'm an American citizen. I have the right to think anything I want to think … I have the right to do what I want to do."
Haroon Manjlai, the public affairs coordinator for CAIR-LA said:
"Neither the article nor Mr. Barrios' comment on the article give any indication that he was talking about Muslim extremists. It sounded like he was talking about the religion as a whole and that is extremely insensitive and un-American."
May 14. Lawmakers in South Carolina indefinitely postponed a vote on legislation that would prohibit the use of any foreign laws, including Islamic Sharia law, which violate the U.S. Constitution.
May 15. The New York Times published an opinion article that called for an infusion of 50,000 migrants from Syria to revitalize Detroit:
"Detroit, a once great city, has become an urban vacuum. Its population has fallen to around 700,000 from nearly 1.9 million in 1950. The city is estimated to have more than 70,000 abandoned buildings and 90,000 vacant lots. Meanwhile, desperate Syrians, victims of an unfathomable civil war, are fleeing to neighboring countries, with some 1.8 million in Turkey and 600,000 in Jordan. Suppose these two social and humanitarian disasters were conjoined to produce something positive."
May 15. The Sheen Center for Thought and Culture, a performance center in downtown Manhattan, canceled an event featuring a new play by Neil LaBute on the grounds that it was offensive to Muslims. The event, "Playwrights for a Cause," featuring four new short plays about censorship in the arts, was set to take place on June 14. The Sheen Center said it "will not be a forum that mocks or satirizes another faith group." LaBute responded:
"This event was meant to shine another light on censorship and it was unexpected to have the plug pulled, quite literally, by an organization that touts the phrase 'for thought and culture' on their very website. Both in life and in the arts, this is not a time to hide or be afraid; recent events have begged for artists and citizens to stand and be counted."
May 21. The Texas Senate passed a measure that would prevent any 'international law' from being used in Texas civil courts. The bill does not specifically mention Islamic Sharia law, but guarantees that no laws from 'foreign courts' will be adopted by Texas civil court judges. "It's just to provide some belt and suspenders to make sure that, with judicial discretion, we don't trump Texas law, American law, with a foreign law regarding family law," said State Senator Donna Campbell. Muslim groups said the bill is a "solution looking for problem."
May 21. The Chairman of the House Committee on Homeland Security, Michael McCaul, said that a plan by the Obama administration to resettle Syrian refugees in the U.S. is a "serious mistake" and should be stopped until safeguards are in place:
"We have no way … to know who these people are … we don't have databases on these individuals so we can't properly vet them, to know where they came from, to know what threat they pose, because we don't have the data to cross-reference them with. While there are a lot of mothers and kids, there are also a lot of males of the age that could conduct terrorist operations."
A group of Senate Democrats urged the Obama administration to allow at least 65,000 Syrian refugees to settle inside the United States.
May 26. Public school officials in Nashville, Tennessee, announced that six schools in South Nashville, home to a burgeoning Muslim community, would begin offering Arabic language classes. Each of the schools has students who speak Arabic as their primary language. Political commentator Allen West said:
"So the schools were chosen because there's a high number of native Arabic speakers in the neighborhood. Why exactly do they need Arabic lessons? Wouldn't English be more appropriate? And why is it the public school's role to help keep students "connected to their native culture?" I thought that was their parents' role. I thought the purpose of the American public school system was to keep Americans connected to their American culture."
May 28. The governing board of the Washington, DC Metro system banned "issue-oriented" advertising on its trains and buses. The move came after the American Freedom Defense Initiative, a free speech advocacy group, sought to place ads featuring a cartoon of Mohammed. A top Metro official said:
"My view is, you put that ad up on the side of a bus, you turn that bus into a terrorism target. I think it's a very bad outcome for everybody. But it's a risk we don't want to put our passengers under."
AFDI's president, Pamela Geller, responded:
"These cowards may claim that they are making people safer, but I submit to you the opposite. They are making it far more dangerous for Americans everywhere. Rewarding terror with submission is defeat. Absolute and complete defeat."
Also in May, a study released by research corporation Westat, and commissioned by the US Department of Justice, estimated that 23-27 honor killings occur in the United States every year. The study, "Honor Violence Measurement Methods," noted that 91% of victims in North America are murdered for being "too Westernized," and in incidents involving daughters 18 years or younger, a father is almost always involved.
The report — which identified four types of honor violence: forced marriage, honor-based domestic violence, honor killing and female genital mutilation — also estimated that 1,500 forced marriages occur in the United States every year.
A separate study by the Population Reference Bureau estimated that 507,000 women and girls in the United States are at risk or have already undergone female genital mutilation (FGM), more than twice the number estimated in 2000.
JUNE 2015
June 1. The U.S. Supreme Court ruled in favor of Samantha Elauf, an American Muslim woman who was denied a job at Abercrombie & Fitch because she wears a hijab headscarf. Elauf claimed the company did not offer her a job because her religious identity violates Abercrombie's "look policy." The company said the scarf clashed with its dress code, which calls for a "classic East Coast collegiate style." Justice Antonin Scalia wrote: "An employer may not make an applicant's religious practice, confirmed or otherwise, a factor in employment decisions."
June 3. United Airlines apologized after a flight attendant's refusal to give an unopened can of soda to a Muslim passenger led to a social media firestorm. Tahera Ahmad, 31, a Muslim chaplain at Northwestern University, was traveling from Chicago to Washington, DC, on May 29 when she said she asked for an unopened can of Diet Coke. Ahmad said the flight attendant told her she was "unauthorized to give unopened cans to people because they may use it as a weapon on the plane." Ahmad wrote on her Facebook page that she was in "tears of humiliation from discrimination."
Other passengers on the flight later contradicted Ahmad's account. They said she became irate after the flight attendant handed her an unopened can of Diet Coke rather than a Coke Zero, as she had requested. The flight attendant returned with a Coke Zero, but said Ahmad could not have the entire can because there was not enough to go around for other passengers. Ahmad then went into a rage: "What, do you think I will use this as a weapon? Why can't I have the whole can? I think you are discriminating against me. I need your name." According to passengers seated near Ahmad, she kept repeating, "I need your name. I am being discriminated against." Ahmad then got on her phone and "started spinning this story on social media and she was never in tears."
One observer noted:
"What's really remarkable about this story is, near as I can tell, at no point … did any of these major media outlets try and independently verify the details of Ahmad's story. I would like to note that what's happened with this story is a complete and total perversion of journalism. Whether it's simply for clicks or because folks are anxious enough to promote any account of injustice that reinforces the media's center-left world view, it is inexcusable to turn someone's one-sided Facebook post into a national news story without making an effort to verify the details."
June 4. A Department of Homeland Security Inspector General report found that the Transportation Security Administration (TSA) had failed to identify 73 airport workers with links to terrorism. The revelation came just days after an internal investigation of the TSA found security failures at dozens of the nation's busiest airports, where undercover investigators were able to smuggle mock explosives or banned weapons through checkpoints in 95% of tests.
June 5. Michael Wolfe, 24, of Austin, Texas, was sentenced to almost seven years in federal prison and five years of supervised release for attempting to engage in violent jihad in Syria. According to the Justice Department, Wolfe admitted that he planned to travel to the Middle East to provide his services to ISIS. Wolfe also admitted to participating in physical fitness training, acquiring a U.S. passport, and trying to conceal his communications about foreign travel to join ISIS. Wolfe purchased plane tickets to Europe so he could meet with an undercover FBI agent, who he believed would help him travel to Syria through Turkey. Wolfe was arrested on June 17, 2014 in Houston as he attempted to board a flight to Canada.
June 7. Munther Omar Saleh, 20, a college student in Queens, New York, was arrested and charged with trying to learn how to build a pressure cooker bomb for an attack in New York City on behalf of the Islamic State.
June 9. The owners of the Empire State Building reached a confidential settlement with a Muslim family booted from the building's observation deck because they were praying. Fahad and Amina Tirmizi, of Long Island, New York, said in their federal lawsuit that they and their two young children had begun silently reciting their evening prayers in a quiet spot on the 86th-floor deck at about 11 p.m. July 2, 2013, when two security guards "forcibly escorted" them down to the lobby and out of the of the building. The couple was seeking $5 million in damages in the suit, filed in March 2014 in Manhattan federal court.
June 9. The New York Police Department said it was working to recruit more Muslims. There currently are about 800 Muslim uniformed police officers out of about 35,000, according to the NYPD Muslim Officers Society. "The more Muslims who work in the NYPD the better," said Ibrahim Hooper, a spokesman for the Council on American-Islamic Relations (CAIR). "This is a way to break down the mistrust and create bridges in the community."
June 12. Four Muslims who accused the FBI of putting them on a no-fly list because they refused to become informants said they would seek damages, even though the travel ban has been lifted. Plaintiff lawyer Robert Shwartz told U.S. District Judge Ronnie Abrams that "various FBI agents punished the men and put them on [the list] because they refused to become informants at their mosques." As a result, they suffered the "stigma of being treated as threats to aviation security." Shwartz added: "Money relief is really the only relief."
June 12. Khalifa Said Derenkai, of Salt Lake City, Utah, filed a lawsuit against Pan Am International Flight Academy, based in Las Vegas, Nevada, for refusing to let him use a flight simulator. Derenkai says he was scheduled for flight simulator training, but Pan Am school manager Phil Spessard looked up his LinkedIn profile and denied him access to a flight simulator. Derenkai, originally from Eritrea, said Spessard reported him to the FBI's Terrorism Taskforce because he "looked suspicious" because of his African origins. Derenkai said he was seeking $400,000 in compensatory damages and punitive damages for discrimination.
June 18. Samuel Rahamin Topaz, 21, of Fort Lee, New Jersey, was charged with planning to travel overseas to support the Islamic State. Topaz was arrested one day after federal prosecutors charged Fareed Mumini, 21, of Staten Island, New York, with trying to stab an FBI agent who was executing a search warrant at his home. A criminal complaint alleged that Mumini had pledged allegiance to the Islamic State, and that if he failed to join the group overseas, he planned to attack law enforcement in the United States.
June 19. Justin Nojan Sullivan, 19, of Burke County, North Carolina, was arrested on charges of planning terrorist attacks in the United States on behalf of ISIS. The criminal complaint alleges that the FBI became aware of Sullivan's plans to obtain a semi-automatic AR-15 rifle, which he planned to use to kill a large number of U.S. citizens. An undercover FBI agent made contact with Sullivan beginning on or about June 6, 2015. Sullivan described himself to the agent as "a mujahid," and as a Muslim convert living in the eastern United States. Sullivan also told the agent that "the war is here," and gave the agent the opportunity to join what he called the Islamic State of North America, whose "doctrine is guerilla warfare in and out."
June 23. A judge in St. Louis, Missouri, ruled that Raja Naeem, a Pakistani taxi driver, has a right to wear religious attire while working. Naeem had been battling the Metropolitan Taxicab Commission, which licenses drivers in the St. Louis area, for years regarding his clothing. The commission requires drivers to wear black pants and a white, button-down shirt. The commission said the dress code makes it easier for the public to identify licensed drivers. After a court ruling in 2013, the commission offered a compromise: a kurta, the loose-fitting clothing worn on the torso. Naeem said his freedom of religious expression was still being violated. Judge Robert Dierker ruled: "Mr Naeem's right to express his religious beliefs by his mode of dress is directly infringed by the Commission's dress code. The Missouri Constitution clearly prohibits such infringement."
June 23. A poll commissioned by the Washington, DC-based Center for Security Policy found that more than half (51%) of Muslims in America believe they should "have the choice of being governed according to Sharia." Only 39% of those polled said that Muslims in the U.S. should be subject to American courts. Nearly a quarter of the Muslims polled believed that, "It is legitimate to use violence to punish those who give offense to Islam by, for example, portraying the prophet Mohammed." Nearly one-fifth of Muslim respondents said that the use of violence in the United States is justified in order to make Sharia the law of the land in this country.
June 23. During an Iftar dinner to celebrate the Muslim holiday of Ramadan, U.S. President Barack Obama lamented the "distorted impression" that many Americans have of Muslims: "Here in America, many people personally don't know someone who is Muslim. They mostly hear about Muslims in the news — and that can obviously lead to a very distorted impression."
June 26. The New York Police Department issued parking tickets to more than 100 Muslim cab drivers parked illegally outside a mosque on the Upper West Side during Ramadan. Cabby Mohammad Zaman, who was slapped with a $115 ticket for double parking, said:
"This is a special prayer time, a time for religion. We double-park here every Friday and they [allow it], but today they gave us all tickets, almost 100 cabs. This has never happened before. I can't help but to think they are being prejudiced. They don't understand. We have to be here."
June 29. Walmart apologized after the bakery at a store in Slidell, Louisiana refused a man's request for a Confederate flag cake, but accepted a design with the ISIS flag. Chuck Netzhammer said he ordered the image of the Confederate flag on a cake with the words, "Heritage Not Hate," but the bakery said no. "I went back yesterday and managed to get an ISIS battle flag printed. ISIS happens to be somebody who we're fighting against right now who are killing our men and boys overseas and are beheading Christians," Netzhammer said. "That's an ISIS battle flag cake that anybody can go buy at Walmart. But you can't buy a Confederate flag toy, with like, say, a 'Dukes of Hazzard's' car."
Soeren Kern is a Senior Fellow at the New York-based Gatestone Institute. He is also Senior Fellow for European Politics at the Madrid-based Grupo de Estudios Estratégicos / Strategic Studies Group. Follow him on Facebook and on Twitter. His first book, Global Fire, will be out in 2016.