Iran's Forces Outnumber Assad's in Syria by Majid Rafizadeh
Pursuing a sectarian agenda, Iranian leaders have also fueled the conflict by sending religious leaders to Syria to depict the conflict as a religious war.Iran's military forces and operations in Syria are significantly more than what has been generally reported so far.
---
The Syrian war has led to the rise and export of terrorism abroad as well as to one of the worst humanitarian tragedies, in which more than 470,000 people have been killed.
Iran has played a crucial role in maintaining in power President Assad, who has repeatedly used chemical weapons on civilians. Iran has promoted continuing the conflict.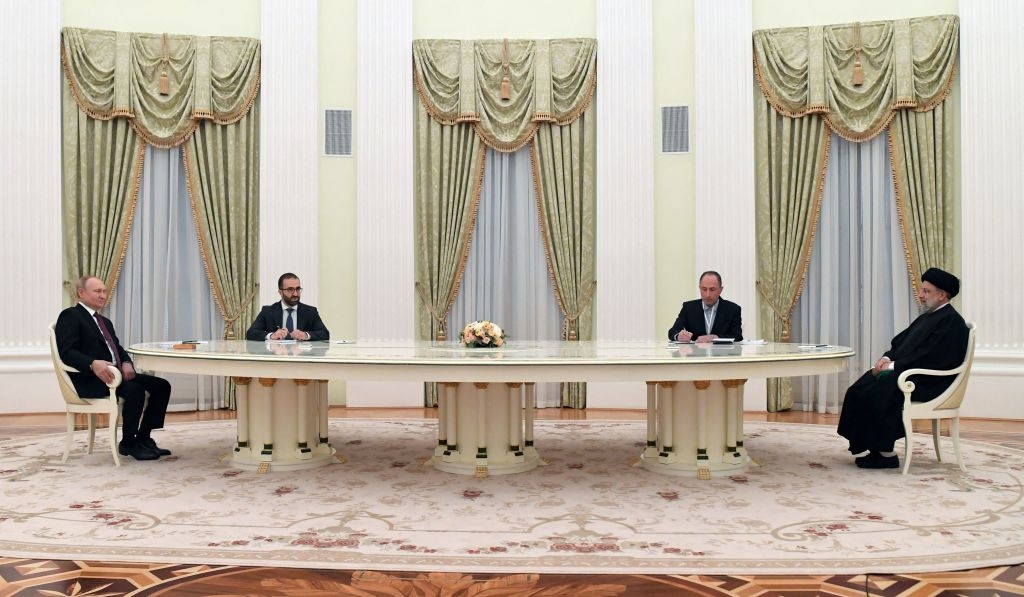 While, according to reports by Iran's Islamic Revolutionary Guard Corps (IRGC), the Syrian military has fewer than 50,000 men, Iran has deployed more than 70,000 Iranian and non-Iranian forces in Syria, and pays monthly salaries to over 250,000 militiamen and agents. According to a report entitled, "How Iran Fuels Syria War," published by the National Council of Resistance of Iran (NCRI), non-Iranian mercenaries number around 55,000 men; Iraqi militias are around 20,000 men (from 10 groups), Afghan militias are approximately 15,000 to 20,000 men, Lebanese Hezbollah are around 7,000 to 10,000 men, and Pakistani, Palestinian and other militiamen number approximately 5,000 to 7,000.
In addition, the composition of Iranian IRGC forces are around 8,000 to 10,000 men, and 5,000 to 6,000 from the regular Iranian Army.
The major Iranian decision-makers in the Syrian conflict are Supreme Leader Ayatollah Ali Khamenei and the senior cadre of the Revolutionary Guards. Iran's so-called moderate leaders — including President Hassan Rouhani and Foreign Minister Javad Zarif — are also in favor of Iran's military, advisory, financial, and intelligence involvement in Syria. Rouhani repeatedly announced his support for Assad and pledged to "stand by [Syria]."
Khamenei insists on using more military power in Syria:
"[I]n December 2015, Khamenei ordered the IRGC to stand fast in the Aleppo region. He reiterated that if they retreated, their fate would be similar to the Iran-Iraq war and the regime would ultimately be defeated in Syria. Thus, in January 2016, the IRGC doubled the number of its forces in Syria to about 60,000 and launched extensive attacks in the region. However, despite tactical advances in some areas, these forces have been unable to even take control of southern Aleppo. IRGC faced a deadlock. In March 2016, Khamenei ordered the regular Army's 65th Division (special operations) to be deployed around Aleppo, and increased the number of other forces as well. Plans for a major offensive to capture Aleppo were set in motion. During attacks by the IRGC and the Iranian army in April 2016, dozens of the regime's forces, including IRGC commanders and staff, Iranian army personnel and foreign mercenaries from Iraq, Lebanon and Afghanistan, were killed. Although the IRGC and the Iranian regime's regular army forces have failed to change the balance of military power in Syria, Khamenei insists on sending more IRGC and army forces into the Syrian quagmire. Seeing no way forward, and no way back."
Iran has also played critical role in pushing Russia to intensify its military involvement in Syria by providing air support, so that the IRGC and its allies could help Iran's military make quick territorial gains.
Iran has spent approximately USD $100 billion on the Syrian war. The sanctions relief given to Iran as a result of the "nuclear agreement" has significantly assisted the Iranian leaders' ability to continue the war.
Iran also pays salaries to non-Iranian militias to participate in the war: "The Tehran regime spends one billion dollars annually in Syria solely on the salaries of the forces affiliated with the IRGC, including military forces, militias, and Shiite networks."
Iran, for example, pays nearly USD $1,550 a month to the IRGC's Iraqi mercenaries who are dispatched to Syria for a month-and-a-half, and approximately USD $100-200 a month to the Syrian militia fighters from the Syrian National Defense.
Pursuing a sectarian agenda, Iranian leaders have also fueled the conflict by sending religious leaders to Syria to depict the conflict as a religious war.
"Iran's ruling regime has deployed a vast network of its mullahs to Syria, where their warmongering stirs up the fighters. And much like during the Iran/Iraq War, religious zealots are also sent to Syria to fuel the flames of religious fervor among the IRGC's Basiij fighters and Afghan and Iraqi mercenaries."
Iran has divided Syria into five divisions and haד over 13 military bases including the "Glass Building" (Maghar Shishe'i), which is the IRGC's main command center in Syria, located close to the Damascus Airport. The IRGC placed its command center near the airport because,
"the airport would be the last location to fall. IRGC forces airlifted to Syria are dispatched to other areas from this location. One of the commanders stationed at the Glass Building is IRGC Brig. Gen. Seyyed Razi Mousavi, commander of IRGC Quds Force logistics in Syria. Between 500 and 1,000 Revolutionary Guards are stationed there."
Other Iranian bases are scattered across Syria including in Allepo, Hama, and Latakia.
Since Brig. General Hossein Hamedani was killed in Syria, the current command of Iran's forces in Syria lies with the Command Council, whose members include: IRGC Brig. Gen. Esmail Qaani (deputy of Qassem Soleimani who is the commander of the Quds Force) and IRGC Brig. Gen. Mohammad Jafaar Assadi (aka Seyyed Ahmad Madani).
The Syrian conflict has become the "root cause" of terrorism, which does not recognize borders and has spread to Europe and America. Since the Syrian war is the epicenter of terrorism, fighting terrorist groups such as ISIS without resolving the Syrian conflict is fruitless.
Terrorist groups such as ISIS are the symptoms, and the Syrian war is the disease. We need to address the disease and the symptoms simultaneously.
The best strategic and tactical approach is to cut off the role of a major player in the conflict: i.e. Iran. Without Iran, Assad would most likely not have survived the beginning phase of the uprising.
Iran kept Assad in power and gave birth to terrorist groups such as ISIS. In other words, Iran and Assad are the fathers of ISIS. Iran and Assad also played the West by claiming that they are fighting terrorism.
Considering the military forces and money invested in Syria, Iran is the single most important player in the Syrian war, and has tremendously increased radicalization of individuals, militarization and terrorism. Iran benefits from the rise of terrorism because it expands its military stranglehold across the region. Iran is top sponsor of terrorism, according to the latest report from U.S. State Department.
Iran will not agree to abandon Assad diplomatically.
In order to resolve this ripe environment of conflict for terrorism in Syria, Iran's financial and military support to Assad should be strongly countered and cut off.
Dr. Majid Rafizadeh, political scientists and Harvard University scholar is president of the International American Council on the Middle East. He can be reached at Dr.rafizadeh@post.harvard.edu.