French Elections: Populist Revolution or Status Quo? by Soeren Kern
"If the Macron bubble doesn't pop, this may portend the realignment, not just of French politics, but Western politics in general, away from the left-right division that has defined Western politics since the French Revolution, towards a division between the people and the elites." — Pascal-Emmanuel Gobry, French political analyst.
"This divide is no longer between the left and the right, but between patriots and globalists." — Marine Le Pen, French presidential candidate.
The presidential election in France officially got underway on March 18, when the Constitutional Council announced that a total of eleven candidates will be facing off for the country's top political job.
The election is being closely followed in France and elsewhere as an indicator of popular discontent with traditional parties and the European Union, as well as with multiculturalism and continued mass migration from the Muslim world.
The first round of voting will be held on April 23. If no single candidate wins an absolute majority, the top two winners in the first round will compete in a run-off on May 7.
If the election were held today, independent "progressive" candidate Emmanuel Macron, who has never held elected office, would become the next president of France, according to several opinion polls.
A BVA market research poll for Orange released on March 18 showed that Marine Le Pen, the leader of the anti-establishment National Front party, would win the first round with 26% of the votes, followed by Macron with 25%. Conservative François Fillon is third (19.5%), followed by radical Socialist Benoît Hamon (12.5%) and Leftist firebrand Jean-Luc Mélenchon (12%).
For the first time, the two established parties, the Socialist Party and the center-right Republicans, would be eliminated in the first round.
In the second round, Macron, a 39-year-old pro-EU, pro-Islam globalist (platform here), would defeat Le Pen, a 48-year-old anti-EU, anti-Islam French nationalist (platform here), by a wide margin (62% to 38%), according to the poll.
Macron, a former investment banker, was an adviser to incumbent Socialist President François Hollande, one of the most unpopular presidents in modern French history. A long-time member of the Socialist Party, Macron served in Hollande's cabinet for two years as economy minister until August 2016, when he resigned to launch his rival presidential bid to "transform France."
Macron, whose core base of support consists of young, urban progressives, has tried to position himself in the political center, between the Socialists and the conservatives. His meteoric rise has been propelled by a scandal involving Fillon — who is the subject of a criminal investigation over allegations that he used government money to pay his wife and children more than €1 million ($1.1 million) for jobs they never did — and because the Socialists fielded Hamon, a nonviable candidate who has promised to pay every French citizen over 18, regardless of whether or not they are employed, a government-guaranteed monthly income of €750 ($800). The annual cost to taxpayers would be €400 billion ($430 billion). By comparison, France's 2017 defense budget is €32.7 billion ($40 billion).
Macron's ascendancy comes amid heightened worries over security. More than 230 people have been killed in attacks in France by Islamic radicals during the past two years. The latest attack, on March 18, involved a 39-year-old French-Tunisian jihadist who proclaimed that he wanted to "die for Allah," and was shot dead after he tried to seize a soldier's weapon at Orly Airport in Paris.
Shortly after the attack, Le Pen accused Macron and the rest of France's political establishment of "cowardice in the face of Islamic fundamentalism."
In an apparent effort to bolster his national security credentials, Macron on March 18 announced a surprise proposal to restore compulsory military service. He said he would require men and women between the ages of 18 and 21 to serve one month in the armed forces.
"I want each young French person to be able to experience military life, however brief," Macron said. "This is a major project of society, a real republican project, which should allow our democracy to be more united and the resilience of our society to be increased." Macron, if elected, would become the first president in modern French history not to have performed military service.
Observers say that Macron's national service proposal — which copies Le Pen's proposal to reintroduce compulsory military service for a period of at least three months — is an attempt to siphon votes away from Le Pen and Fillon, both of whose campaign platforms call for a strong national defense.
Macron's proposal, which will require an estimated €15 billion ($16 billion) upfront, and another €3 billion ($3.2 billion) each year to maintain, has been met with derision because of its exorbitant cost and dubious contribution to national security. Le Monde reminded its readers that France spends a similar amount (€3 billion annually) on nuclear deterrence.
Fillon's spokesman, Luc Chantel, said the proposal was "absurd and unrealistic" and added:
"Either it is a measure designed to discourage students from quitting school, and this is not the mission of the army, or it is training for the defense of France, and one month is a joke, it is a discovery camp."
Some of Macron's other policy positions include:
An Ifop poll for the Journal du Dimanche published on March 18 found that French voters are divided into "two quasi-equal blocks" about Macron's honesty and his ability to govern. According to the survey, only 46% of French people believe he will be "able to guarantee the safety of the French people." More than half (52%) of respondents said they were "worried" about Macron, while 52% said they doubted his honesty.
In an interview with BMFTV, Laurence Haïm, a Canal+ reporter who was accredited to the White House and who recently joined Macron's team, described Macron as the "French Obama." She added: "I think that in today's world we need renewal, from someone young, who is not a politician. He wants to make the democratic revolution."
So what is driving Macron's political ascendancy? French analyst Pascal-Emmanuel Gobry explains:
"The best way to look at Macron is as a kind of anti-Le Pen, or, to stretch the bounds of logic even further, a 'populist from the top.' If Le Pen is anti-establishment, Macron is the incarnation of the French establishment, a graduate of ENA, the top civil service school that trains the country's elites, and a member of the Inspection des Finances, the most elite civil service track. His only experience in the private sector is through the revolving door as an investment banker. And yet, Macron sounds off populist rhetoric: His candidacy, he says, is about sweeping out a corrupt system (even as he is supported by the vast majority of the French establishment).

"It would be only slightly churlish to say that the parts of the system Macron wants to do away with are the democratic ones; witness his full-throated support for the EU in a country that has rejected it at the polls. Macron supports various liberalizing reforms, and Angela Merkel's welcoming policy towards migrants. He is, of course, a social liberal. In a country that takes culture very seriously, he has argued that there is 'no such thing' as French culture; rather, there are many cultures with which the French perform a kind of synthesis. His biggest donors seem to be French tax exiles residing in London and Brussels.

"In other words, he is the mirror image of the political realignment that is transforming Western politics. If the familiar motley crew of populists — Trump, Le Pen — are the candidates for those who lost out from globalization, then Macron is the candidate of the winners. In both cases, they seem to make old left-right divisions obsolete. If the Macron bubble doesn't pop, this may portend the realignment, not just of French politics, but Western politics in general, away from the left-right division that has defined Western politics since the French Revolution, towards a division between the people and the elites.
Le Pen agrees. At a rally in Lyon on February 5, she said:
"The old left-right debates have outlived their usefulness. Primaries have shown that debates about secularism or immigration, as well as globalization or generalized deregulation, constitute a fundamental and transversal divide. This divide is no longer between the left and the right, but between patriots and globalists.

"The collapse of traditional parties and the systematic disappearance of almost all of their leaders shows that a great political re-composition has begun."
At that same rally, Le Pen launched a two-pronged attack on globalization and radical Islam. She also promised French voters a referendum on remaining in the European Union in order "to allow us to recover our four sovereignties: monetary, economic, legislative and territorial."
She went on to articulate exactly what is at stake for France in this election:
In all respects, this presidential election is unlike previous ones. Its outcome will determine the future of France as a free nation and our existence as a people.

After decades of errors and cowardice, we are at a crossroads. I say it with gravity: the choice we will have to make in this election is a choice of civilization.

The question is simple and cruel: will our children live in a free, independent, democratic country? Will they still be able to refer to our system of values? Will they have the same way of life as we did and our parents before us?

Will our children, and the children of our children, still have a job, a decent wage, the possibility of building up a patrimony, becoming an owner, starting a family in a safe environment, being properly cared for, to grow old with dignity?

Will our children have the same rights as us?

Will they live according to our cultural references, our values ​​of civilization, our style of living, and will they even speak our French language, which is disintegrating under the blows of political leaders who squander this national treasure — for example, by choosing a slogan in English to promote the candidacy of Paris to host the 2024 Olympic Games?

Will they have the right to claim French culture when certain candidates for the presidential election, puffed up by their own empty-headedness, explain that it does not exist?

I ask this important question because, unlike our adversaries, I am interested not only in the material heritage of the French, but I also want to defend our immaterial capital. This immaterial capital is priceless because this heritage is irreplaceable. In fact, I am defending the load-bearing walls of our society.
The choice for French voters is clear: Le Pen is the anti-establishment change candidate and Macron is the pro-establishment status quo candidate.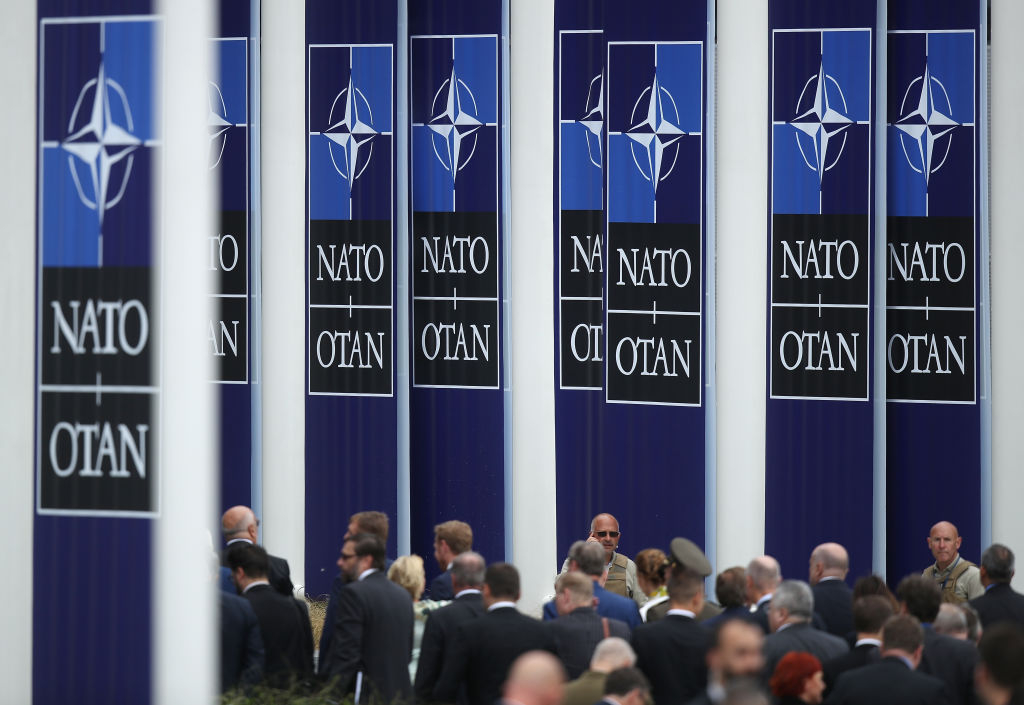 In the current French presidential election campaign, Marin Le Pen (right) is the anti-establishment change candidate and Emmanuel Macron (left) is the pro-establishment status quo candidate. (Image source: LCI video screenshot)
Le Pen is offering voters an historic opportunity to reassess relations with the European Union, reassert national sovereignty and stanch the flow of mass migration from the Muslim world. By contrast, Macron is offering voters increased European federalism, the transference of yet more national sovereignty to the European Union, and the further multiculturalization of French society.
If polls are any indication, French voters appear to be more comfortable with the status quo. The populist revolution that began in June 2016 when British voters decided to leave the European Union, and cross the Atlantic in November when Americans elected U.S. President Donald J. Trump, will not be spreading to France in 2017.