A Month of Islam and Multiculturalism in Britain: February 2017 by Soeren Kern
Muslim pupils outnumber Christian children in more than 30 church schools, including one Church of England primary school that has a "100% Muslim population." — Sunday Times.Six Muslim men shouted "Allahu Akbar" as they were sentenced at Sheffield Crown Court for a total of 81 years for sexually abusing two girls — including one who became pregnant at age 12 — in Rotherham.
"By 2030, one in three people will be a Muslim in the world — that is a huge population." — Romanna Bint-Abubaker, founder of modest fashion website Haute Elan.
A Chatham House survey of more than 10,000 people from ten European countries found that an average of 55% agreed that all further migration from mainly Muslim countries should be stopped.
February 1. Jim Walker, a 71-year-old volunteer at Carnforth Station, was banned from the premises after someone complained about an alleged racist comment. Walker, who, for more than a decade, has been winding a famous clock at the station, was overheard discussing a newspaper article about young migrants entering Britain from the French port of Calais. Walker said:
"Carnforth Station Trust received a complaint from a visitor who was not happy about me speaking to somebody about the issue…. What they are doing is outrageous. It is absolutely unbelievable, it is a violation of free speech….

"I must be the only man in Carnforth who has a document saying where he can and can't walk and all for expressing a point of view and quoting an editorial from a newspaper. Now [winding the clock] is no longer possible."
February 1. Prime Minister Theresa May told the House of Commons that women should feel free to wear the hijab, a traditional Islamic headscarf. Several European countries have imposed bans on parts of Muslim religious dress. "What a woman wears is a woman's choice," May said after she was asked — on world hijab day — if she supported the right of women to wear the garment.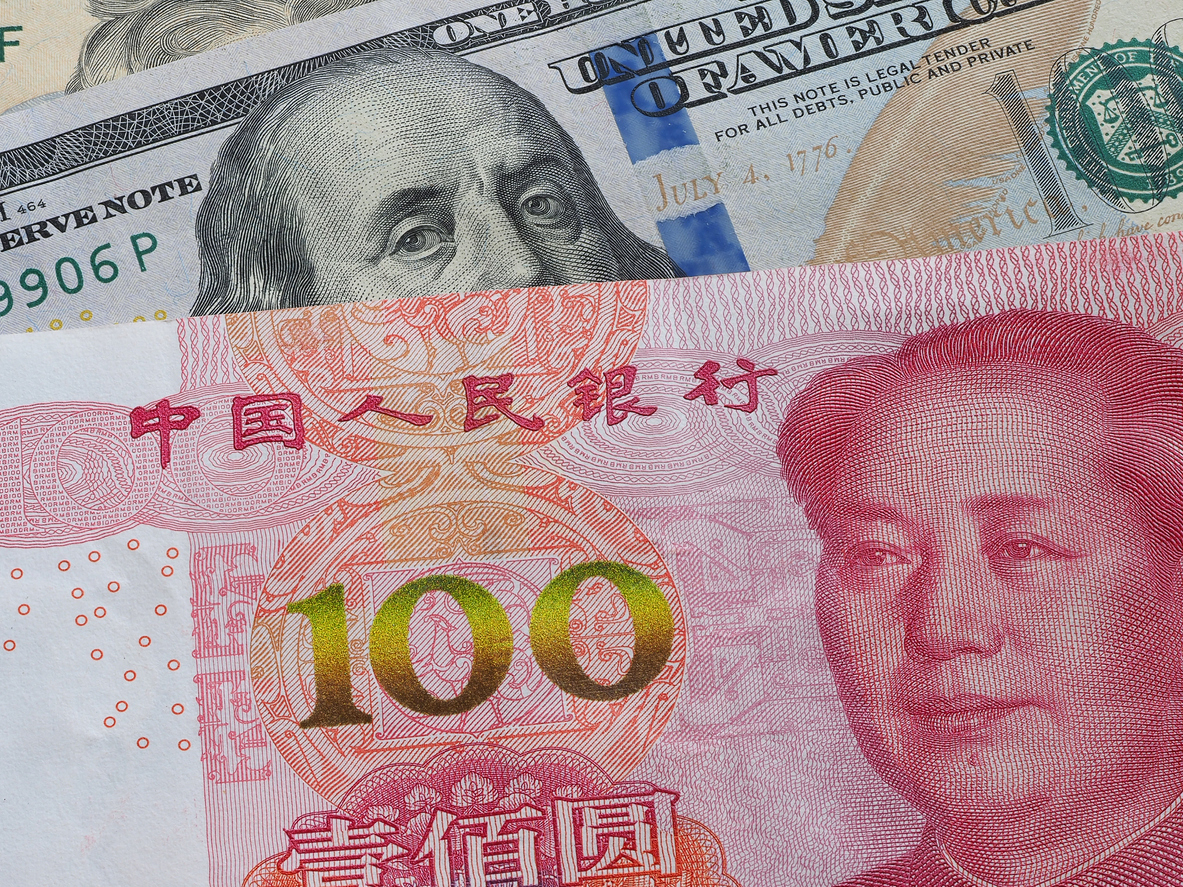 On February 1 ("world hijab day"), UK Prime Minister Theresa May said that women should feel free to wear the hijab, a traditional Islamic headscarf, stating: "What a woman wears is a woman's choice." Pictured above: Theresa May (then Home Secretary) wears a headscarf while attending an interfaith event at Al Madina Mosque in East London, in February 2015. (Image source: Imams Online video screenshot)
February 2. Six Muslim men shouted "Allahu Akbar" as they were sentenced at Sheffield Crown Court for a total of 81 years for sexually abusing two girls — including one who became pregnant at age 12 — in Rotherham. Three brothers and three other men were convicted of crimes including rape, indecent assault and false imprisonment after the pre-teen victims were "systematically groomed."
February 4. Almost half of the new homes built in the next five years will go to migrants, according to government figures. Soaring immigration means that Britain will need to accommodate as many as 243,000 new households each year for the next 22 years. It is estimated that an extra 5.3 million new properties could be needed to meet the growth in population, and an extra 2.4 million of the new homes will be needed for migrants alone. In other words, one new home must be built every five minutes to house Britain's burgeoning migrant population.
February 5. Muslim pupils outnumber Christian children in more than 30 church schools, including one Church of England primary school that has a "100% Muslim population," according to the Sunday Times. St. Thomas in Werneth, Oldham, is reported by the local diocese to have no Christian pupils, while at Staincliffe Church of England Junior School in Batley, West Yorkshire, 98% of pupils "come from a Muslim background." The Church of England estimated that about 20 of its schools had more Muslim pupils than Christians and 15 Roman Catholic schools had majority Muslim pupils, according to the Catholic Education Service. Some church schools include Islamic prayers in their services.
February 6. The Deputy Mayor of London, Sophie Linden, warned that people who inflict female genital mutilation (FGM) on girls have escaped justice "for too long." Linden said that "inconsistencies in the way these crimes are recorded" had allowed perpetrators to avoid charges, despite FGM being a "widespread" problem. Although FGM has been illegal in Britain since 1985, no one has ever been successfully prosecuted for such offenses.
February 7. Zakaria Bulhan, a 19-year-old Norwegian national of Somali origin, was sentenced to indefinite confinement at Broadmoor Hospital after he admitted to killing American tourist Darlene Horton and wounding five others in a rampage in central London on August 3, 2016. Bulhan, from Tooting, South London, pled guilty at the Old Bailey to "manslaughter by diminished responsibility" on the grounds that he was suffering from paranoid schizophrenia at the time of the attacks. He had been charged with murder and attempted murder, but the court accepted his plea. During his arrest, Bulhan repeatedly muttered "Allah, Allah, Allah," and police found a Muslim prayer book, "Fortress of the Muslim," in his pants pocket. The court decided that Islam was not a factor in Bulhan's behavior.
February 7. A Chatham House survey of more than 10,000 people from ten European countries found that an average of 55% agreed that all further migration from mainly Muslim countries should be stopped, 25% neither agreed nor disagreed and 20% disagreed. Majorities in all but two of the ten states agreed, ranging from 71% in Poland, 65% in Austria, 53% in Germany and 51% in Italy to 47% in the United Kingdom and 41% in Spain.
February 9. A 44-year-old man from Hertfordshire was arrested at Gatwick Airport on terrorism charges after he disembarked from a flight from Iraq. He was charged under Section 5 of the 2006 Terrorism Act: suspicion of preparation of terrorist acts.
February 12. A National Health Service (NHS) project based on research by Leeds University claimed that Muslims with mental health issues could be helped by re-embracing Islam. Traditionally, therapists have shied away from talking about religion as part of treatment. Lead researcher Dr. Ghazala Mir, of the university's Leeds Institute of Health Sciences, said:
"We know that in Muslim populations people can get quicker results from faith-sensitive therapies that have been tested elsewhere in the world. They tend to use religion as a coping resource more than people in other religious groups."
Mir has helped to create a new treatment. Patients are asked if faith was part of their life when they were well. Those who stopped being religious because of depression are re-introduced slowly using a self-help booklet, which highlights passages from the Koran that illustrate that "even people with strong faith" can become depressed and that it does not mean Allah is displeased.
February 13. Nadeem Muhammed, a 43-year-old Pakistani national, appeared at Westminster Magistrates' Court in London after security officials at Manchester Airport discovered a pipe bomb in his hand luggage prior to boarding a flight to Italy. Muhammed, who lives in Greater Manchester, was arrested on January 30 but was later released on bail and was allowed to travel. He was re-arrested when he returned to Britain on February 11 and charged with possessing an improvised explosive device.
February 14. Clayton McKenna, a 22-year-old Briton who converted to Islam while in prison, appeared at Newcastle Crown Court after he carried an axe through the streets of Boldon Colliery, apparently with which to confront his Christian father over "religious differences." McKenna allegedly told police that he was on his way to his father's home "to ask him to bow down to me." Judge Penny Moreland told McKenna:
"It appears you were sober, you had not been drinking or taking drugs. There has been an examination by the mental health team and they are satisfied there are no mental health issues I ought to be taking into account.

"You made a series of statements, both at the scene and in interview shortly afterwards, as to what you intended to do and what was in your mind. It is right to say they were confused and contradictory.

"The statements included a suggestion that you were going to use violence against your father, amongst a number of reasons you said was because he was a Christian and you were a recent convert to Islam.

"I am concerned that there is no real explanation for your confused thinking that morning, nor for those threats made, even though they appear to have been without substance."
February 15. Faisal Bashir, a 43-year-old father of two from Ilford, was forced to move out of his home after he renounced Islam and stopped attending mosque. Bashir said he was subject to harassment, but police dismissed his pleas for help as "just a nuisance." He explained:
"These people knew I had become an atheist and soon enough my whole family was being harassed. At least once a week they would hang around near my house, shouting and swearing at me. I was called an apostate, a non-believer, I was told I had betrayed my God and my faith. Sometimes they would even say things to my children — they are far too little to know what was happening, they were very frightened.

"Police always said they could not really do anything because no physical altercation ever took place. But I am not the kind of person to get violent with anybody. Also, it was always different people so they claimed they could not log it as similar complaint. Eventually a police officer told me I should just move house to get away from it all.

"We were not left with any other choice…. The new house is over a mile away, but they still managed to find us again."
The Chairman of the Ilford-based British Pakistani Christian Association (BPCA), Wilson Chowdhry, said:
"Police and councils up and down the country just don't understand the level of animosity people choosing to leave Islam can face."
February 16. Sir Bernard Hogan-Howe, Britain's top police officer, urged Muslim scholars to step up their efforts to counter the violent ideology of the Islamic State. He said he believed that IS fighters and terrorists were "political criminals" who were carrying out "horrific violence" which had no justification in Islam. In an interview with the Evening Standard, Hogan-Howe repeated the politically correct dogma that the Islamic State is not Islamic:
"The hardest part for the Western world is to interrupt this philosophy that Daesh [Islamic State] is perpetuating which is that Islam in any way supports this horrific use of violence.

"There is no interpretation I would argue that could say that, but some people are getting away with that. Muslim scholars have got to come up and be really challenging of that and be very clear that this can never be acceptable. There is no interpretation that can ever conclude it is okay to kill people. We cannot be at all sensitive to religious beliefs. We have all got to say that is wrong.

"The Muslim community feel particularly sensitive because Islamism is about people who profess to be Muslims. I would argue that they are political criminals — it just happens to be masked in religion. But when you are dealing with that issue you have to be sensitive to the majority who are good people trying to do the right thing."
February 18. Britain's first-ever "modest" fashion event was held in London with more than 40 designers displaying garments that comply with Muslim values. Event organizer Romanna Bint-Abubaker, founder of modest fashion website Haute Elan, told Sky News:
"The fastest growing global consumer is at the moment the Muslim market. By 2030, one in three people will be a Muslim in the world — that is a huge population."
February 19. Counter-terrorism police launched an investigation into claims that Trish O'Donnell, head of Clarksfield Primary School in Oldham, was being forced to work from home after death threats from Muslim parents opposed to her Western values. O'Donnell reportedly has been subject to "harassment and intimidation" in the form of "aggressive verbal abuse" and "threats to blow up her car" from parents pushing conservative Muslim ideals. The school is mostly filled with Pakistani pupils who do not speak English as a first language.
February 20. Members of Parliament debated U.S. President Donald J. Trump's state visit to Britain. Left-wing MPs called for the invitation to be withdrawn to protest Trump's travel ban on people from seven Muslim-majority countries. Conservative Party MPs accused their opponents of hypocrisy and insulting the American people. The debate was triggered after an online parliamentary petition seeking to prevent Trump from making a state visit attracted nearly two million signatures. A counter-petition received over 300,000 signatures. After three hours of debate, Sir Alan Duncan, the deputy foreign secretary, reaffirmed the government's intention to host Trump on a state visit, tentatively set for October 5-8, 2017.
February 21. Rezzas Abdulla, a 33-year-old man from South Shields, was sentenced to eight months in prison, a sentence then suspended so that he could receive treatment for mental health problems, for assaulting a woman and her nine-month old baby. Rebecca Telford, 25, and her daughter Layla-Jean, were strolling in South Shields in January 2016 when Abdulla leaned into the baby carriage and spat into the baby's mouth, and allegedly said, "white people shouldn't breed," before launching into a tirade of racial abuse. Telford told police:
"There was no eye contact and no words had been exchanged. I had never seen him before. I believe he spat on her purely because we are white, I was a lone female and an easy target."
February 22. Jamal al-Harith, a 50-year-old British convert to Islam, blew himself up at an Iraqi army base in Mosul on February 20. He had received £1 million (€1.1 million; $1.2 million) in compensation from the British government after being freed from Guantánamo Bay in 2004. Al-Harith, originally named Ronald Fiddler, was born in Manchester to parents of Jamaican origin and took the name Jamal al-Harith when he converted to Islam. He was also known more recently as Abu-Zakariya al-Britani. Captured in Afghanistan in early 2002, and released from Guantánamo Bay after two years, he later joined IS.
February 23. The BBC paid "very substantial" libel damages and broadcast a full apology to Chowdhury Mueen-Uddin, founder member of the Muslim Council of Britain, who was falsely accused of calling for the lynching of author Salman Rushdie.
February 26. Shahriar Ashrafkhorasani, a 33-year-old Iranian-born convert from Islam and who is set to be ordained as a Church of England priest, accused Oxford University of discrimination and bias after he was told he could not ask a lecturer critical questions about Islam. During a seminar about love in religion, Minlib Dallh, a research fellow at Regent's Park College in Oxford, allegedly pointed at Ashrafkhorasani and said: "Everybody can ask a question except you." Ashrafkhorasani said that Dallh had discovered during a coffee break that he was a convert from Islam. He said that Dallh refused to let him ask questions about the lecturer's description of Islam as a religion of love and peace. Dallh's project was partly being sponsored by the King of Jordan. Bishop Michael Nazir-Ali, who was a senior fellow at Wycliffe Hall until last year, said that a "politically correct" atmosphere is "very widespread in the university as a whole." He added: "If people are taking money from these [Muslim] sources, then that can limit the critical approach to the study of Islam and Muslim civilization generally."
February 27. A spokesman for the West Midlands Police wrote on social media that parents caught practicing female genital mutilation (FMG) on their children should not be prosecuted. He revealed that the force is opposed to "prosecuting/jailing" parents for FGM because it would be "unlikely to benefit" children who fall victim to the crime. He added that the best course of action is to focus on "education." Tim Loughton, a member of the Home Affairs Committee, condemned the reluctance to pursue prosecution:
"It is absolutely key to expose perpetrators and to nail them for it. The police must go after offenders. This is deeply disturbing because a key part of eradicating the violence of FGM is exposing, prosecuting, and nailing the perpetrators. Every time a prosecution fails to materialize, it encourages those that are behind this that it is not a serious crime, and they can get away it."
February 28. Patrick Kabele, a 32-year-old convert to Islam, was found guilty of preparing terrorist acts — namely attempting to travel to Syria — contrary to the 2006 Terrorism Act. During his trial, jurors at Woolwich Crown Court heard how Kabele, from Willesden in North London, tried to join the Islamic State in Syria, where he wanted to buy a "nine-year-old virgin, the younger the better." He added that if he had enough money, he would buy four wives. Kabele was arrested after he tried to board a flight from Gatwick to Istanbul, Turkey on August 20, 2016 with £3,000 in cash. Kabele, who was born in Uganda and became a British citizen, told police after his arrest that he did not "owe an oath of allegiance" to the United Kingdom.