Igihano na gashinyaguro abacitse ku icumu,bakorerwa na Leta ikomeje kubarimbura,mu bwenge,no mu mutima???
Notice
: sanitize_url is
deprecated
since version 2.8.0! Use esc_url_raw() instead. in
/home2/egretnew/public_html/wp-includes/functions.php
on line
4654
Notice
: sanitize_url is
deprecated
since version 2.8.0! Use esc_url_raw() instead. in
/home2/egretnew/public_html/wp-includes/functions.php
on line
4654
Hits: 105
Munyanziza na Mukagahima bahanye ibiganza baganira iruhande rw'inzu yabo,Umuturanyi wabo Boniface Nyabyenda, avuga ko atari "azi ko ibi bintu bishoboka".
Rwanda: Uko uwarokotse jenoside aturanye n'uwishe mu 'nzu y'ubwiyunge'Claudine Mukagahima na Faustin Munyanziza baba munsi y'igisenge kimwe mu nzu yahimbwe 'inzu y'ubumwe n'ubwiyunge", inzu bamwe batangarira kuko umwe yakoze jenoside naho undi yayirokotse.
Mukagahima warokotse jenoside we n'abana be babiri, baturanye na Munyanziza uba wenyine wafunzwe imyaka icyenda kubera kwica abantu muri jenoside nyuma akarekurwa nk'uko abivuga.
Baba mu majyepfo mu murenge wa Nyamiyaga mu karere ka Nyanza mu nzu zizwi nka 'Two in One' batujwemo na leta nk'abakene.
Nyuma ya jenoside yiciwemo Abatutsi barenga 800,000 n'Abahutu batari bashyigikiye ubwicanyi, uretse urwango hagati y'abayigizemo uruhare n'abarokotse hanasigaye kwishishanya hagati y'Abahutu n'Abatutsi.
Mukagahima w'imyaka 48 avuga ko banyuze mu rugendo rw'isanamitima bagatozwa gusaba imbabazi no kuzitanga, kimwe mu bikorwa amadini amwe afatanya na leta mu gushishikariza Abanyarwanda kwiyunga no kubabarirana.
Ntiyahatiwe gutanga imbabazi?
Leta ivuga ko ubumwe n'ubwiyunge buri ku gipimo cya 92% (Rwanda reconciliation barometer, 2015) kandi gahunda ya 'Ndi Umunyarwanda' igamije ko Abanyarwanda batiyumva 'mu moko' yabo bayishima ku kigero cya 91%( citizen report card,2020).
Bamwe mu batavugarumwe na leta ariko bavuga ko iyo mibare atari ukuri kw'ibiriho mu gihugu, ko leta ikora byose ngo igaragaze ko ivanguramoko cyangwa ubwiyunge bitakiri ibibazo bikomeye.
Mukagahima ati: "Ntabwo ubutegetsi bwaguhata [gutanga] imbabazi, njyewe imbabazi zamvuyemo, narerebye nti abanjye barashize, nanone aho gukomeza kubaho njyenyine reka niyunge na bagenzi banjye."
Yongeraho ati "Mbere narabarebaga nkabatinya, nkumva igishyika, sinibazaga n'ukuntu nabana n'umuntu wishe."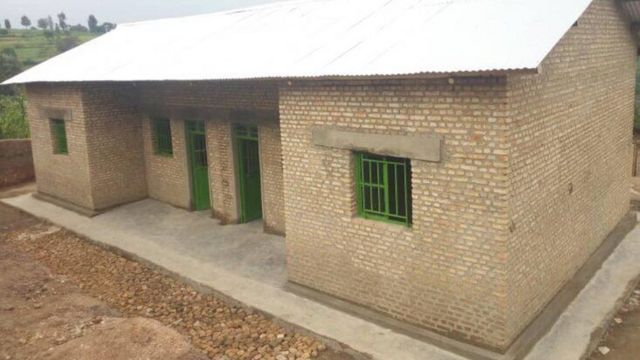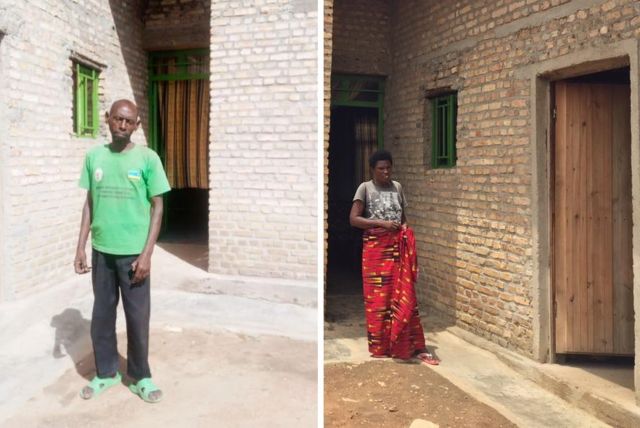 Babyakiriye bate?
Munyanziza w'imyaka 62, nyuma yo gufungwa imyaka icyenda no gukora igihano nsimburagifungo imyaka irenga itanu, avuga ko yabanje kugira ubwoba abonye ko agiye kubana n'uwarokotse.
Ati: "Nkingera hano nabanje kugira ubwoba, naravugaga nti 'uwo muntu njyewe nzashobokana na we?' Nibwo bwari ubwa mbere ngiye kubana n'umuntu wacitse ku icumu niyo mpamvu nanjye navuze nti 'hari igihe yenda bazampemukira' ariko ntabwo byabayeho".
Mukagahima avuga ko mu gihe cy'amezi atatu bamaze baturanye muri iyi nzu babanye neza kandi ufite icyo arusha mugenzi we akimuha.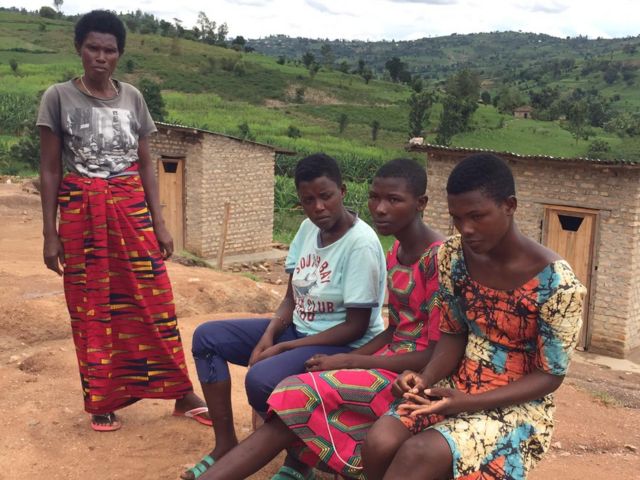 Ati: "Ejo bundi naramubwiye nti 'Mzee ngwino dukurikire kwibuka kuri radio tujye tuganira amateka', ati 'njyewe icyo nemera kwica narishe nanabisabiye imbabazi, ati 'nubwo nabikoze narumvise ntabwo nakongera'".
Boniface Nyabyenda uturanye nabo, yabwiye BBC ko aba baturanyi be abona babanye neza ariko atari azi ko ibi bintu byashoboka.
Ati: "Kuvuga ngo umuntu wishe turi bubane mu nzu? Nabibonye hano birantangaza cyane." Avuga ko we atabishobora.